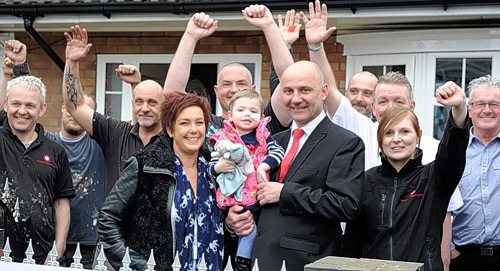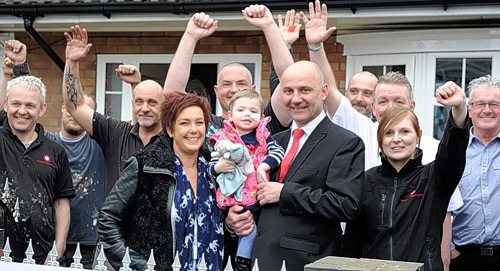 A Hull based Veka fabricator and installer, Yorkshire Windows and Doors, has come to the aid of a local family struggling with unmanageable heating bills – largely caused by outdated glazing in their new home.
Beki Taylor and her family had been living in the property for just four months when they received a heating bill for £800. "I put two and two together and we got a window supplier to come and have a look at all the windows in the house," said Beki. "He found that 75% of heat was being lost through our windows. I was absolutely gutted."
What made the circumstances absolutely critical though, is the life-threatening leukaemia that affects Beki's two-year-old daughter, Georgiana Pooley – known as Georgi. "It is important that we get Georgi's room warm enough because she can easily pick up cold or flu," Beki explained. "Last time she had flu she had to be hospitalised and was put in intensive care."
Realising the gravity of the situation, the family turned to Yorkshire Windows and Doors – a provider of PVC-U systems from The Veka UK Group.
Andy Winn, the fitter who attended to assess the family's home for a quote, was struck by their story, especially after meeting Georgi in person. Beki continued: "When we told Andy what Georgi was going through, he got really upset.
"When he came back with what we thought was an estimate a week or so later, he just hugged me and said the company would like to fit all the windows and our front and back door as a gift from them and their suppliers to get our little girl better."
Where the family had previously been faced with either a £9,000 bill for the window and door installation or the prospect of continuing to wrap Georgi in jumpers, they could now rest assured she would have the warmth she needs throughout the house – even in her previously 'off limits' playroom!
Colin Torley, sales and marketing director for The Veka UK Group, commented: "Yorkshire Windows and Doors have made a truly remarkable contribution to support Georgi and her family. The Veka UK Group is honoured to be associated with a company that, besides running an impeccable business, made time to organise this truly selfless gesture – one that has clearly brought smiles to the faces of all those involved. We wish Georgi and her family well in their cosy new home!"
Richard Hornby, MD of Yorkshire Windows and Doors, said: "When we heard about Georgi, the company wanted to do something to help as the job was rather an expensive one. We are just glad we were in a position to help Georgi and keep her warm in future."