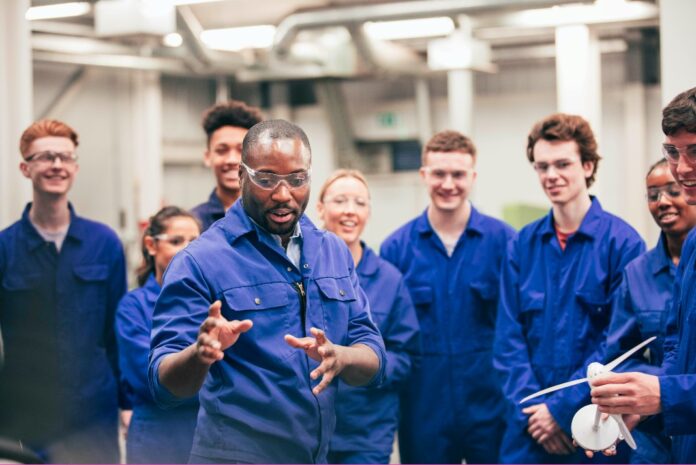 The Glass and Glazing Federation (GGF)'s new Skilled Pathways scheme has welcomed its first cohort of candidates. The cohort begins training on the week beginning 25 April, as part of a scheme that looks to tackle the skills shortage head on, by recruiting and upskilling the next generation of glaziers.
Among the first to take advantage of the Skilled Pathways Scheme is Prentice Glass, which has three candidates starting. Joanne Jackman, general manager of Prentice Glass, said: "Being one of the oldest glazing companies in London, we know how important it is to get young glaziers trained in the industry. Being part of the GGF has meant that we have half of the training costs funded, providing an excellent opportunity for the apprentices and the company."
Joanne added: "Exciting times are ahead. We hope to support the GGF and see many more schemes in the future."
Offering a broader view, John Agnew, the GGF Group's managing director, said: "The government's objective to achieve net zero by 2050 will require an estimated 500,000 additional skilled workers in the construction industry, including the glass, glazing and fenestration industries. We need to act now, to get the right people in place, and upskill, so we can continue to be an important part of the green agenda in construction.
"Working in partnership with Total Support Training and GQA Qualifications, this new programme is unlike any other apprenticeship scheme in our industry. We are funding training for up to £4,000 per GGF Member Company, as part of the pilot scheme, to aggressively attract more businesses to take part. The scheme will also have a very clear and focussed career trajectory for candidates, to ensure we keep the programme of upskilling on track."
In the first instance, the GGF Skilled Pathways scheme plans to cover glazing, glass processing, fenestration, fire-resistant glazing, window film application and technical administration. As the scheme builds in momentum, this list is set to grow.
John continued: "We've been excited to see so many member companies showing an interest in our scheme pre-launch. It requires long term commitment from companies as they move their trainees through the programme of both on-site and off-the-job learning, over the course of 18 to 24 months. But our members are dedicated to doing the right thing.
"More information about the GGF Skilled Pathways scheme can be found in our online training hub, which provides members with a complete resource of the expanse of training opportunities available. We also have a dedicated section called New to Glass, that is open to anyone looking to join the industry.
"We're confident we can play our part in helping the construction sector to meet the government targets. But time is of the essence. Companies must act now. The GGF training hub, including this new Skilled Pathway scheme, is a great place to start."