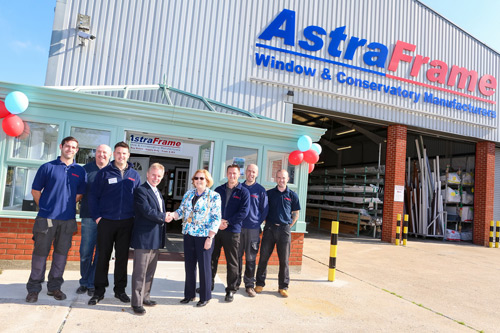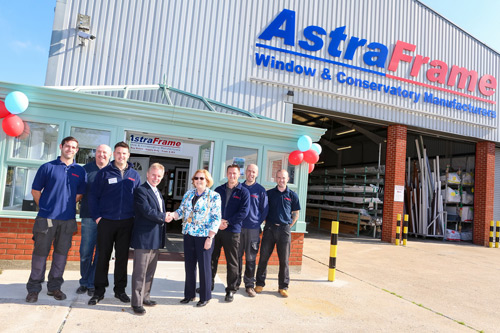 Fabricator AstraFrame, based in Norwich, recently flung open the doors to its new orangery to celebrate its 35th anniversary.
The Lord Mayor of Norwich came to cut the ribbon and officially open the orangery, which connects to the existing factory showroom through new Warmcore bi-fold doors.
"It was a brilliant day," said Trevor Collier, managing director at AstraFrame. After the opening ceremony, Trevor took The Lord Mayor of Norwich, Councillor Brenda Arthur, around the factory to see how AstraFrame makes windows. "She was especially interested in the Stuga Autoflow automated cutting and prepping machine, as Stuga is based locally in Great Yarmouth."
AstraFrame was the very first machine customer of Stuga back in November 1999 and the two companies have worked closely together over the years. "We value our long-term relationships with suppliers. Stuga is a great example of that, and Synseal and EcoGlass too. It was really good as they all came to support us on the day."
The orangery windows, doors and roof, were fitted by AstraFrame recommended local installers, Patrick Holmes and Tony Zavanaiu.
Patrick, who was suitably impressed with the finished orangery, said: "I'm a bit biased but it's a fabulous room. I'm surprised how comfortable it is on a sunny day like today. Its cooler in here than it is outside!"
Trevor added: "Trade and retail customers loved the new showroom and orangery. We offer a simple but effective service for customers. We love Norwich. That's why we support the local economy by helping local tradespeople instead of competing with them and we buy many supplies locally too. By opening the new orangery, we've shown our commitment to the future and we're looking forward to the next 35 years."