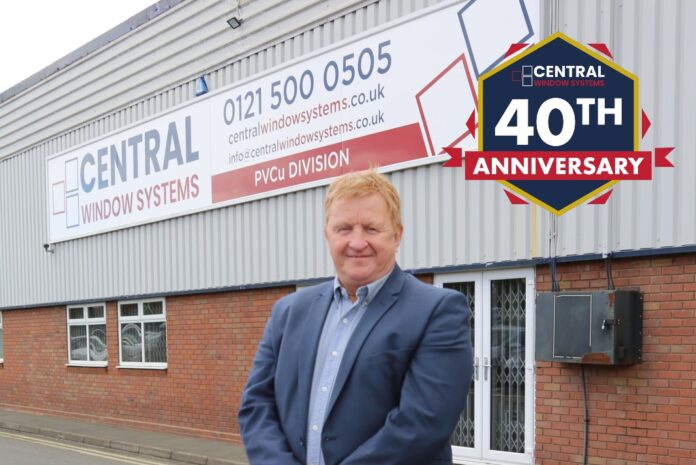 Central Window Systems is celebrating its 40th anniversary this year, an important milestone for the full solution PVC-U and aluminium fabricator. The business has come a long way from starting off as Reliant Products in 1982, as a small but growing PVC fabricator.
In 2011, RPL acquired local fabricator Central CRC, to enhance capacity. RPL was soon renamed Central RPL, before it was further acquired in 2015 by the Boing Boing Group, led by CEO Gary Morton. Just two years later, in 2017, thanks to a growing popularity of aluminium products, Central ASL was born, focusing exclusively on aluminium windows, bi-folds and patio doors. The business served both commercial and domestic installers.
In February last year, the two divisions merged to form Central Window Systems, becoming one of the Midlands' largest PVC-U and aluminium full solution fabricators. "Central Window Systems has a long and rich history," said Gary. "To reach 40 years is an incredible milestone for the company, and everyone involved.
"It's thanks to the hard work and dedication of our team, the wide range of our high-quality products, and our commitment to delivering exceptional customer service that we've been standing tall for four decades." Today, Central offers a wide range of PVC-U windows and doors, as well as an extensive range of aluminium doors, windows and roof light systems.
During the past two years, the company has expanded its manufacturing facility to 52,000ft², invested in new products and machinery, increased production, and appointed new members of staff in order to drive business growth. "It's certainly been a challenging two years," added Gary. "But in its 40-year history, Central has always worked hard behind the scenes to meet customer demand, supplying the best products and services possible.
"I'd like to thank all our valued customers and suppliers for their continued support, and I look forward to seeing what the future has to hold for Central." For more information, call Central Window Systems on 0121 500 0505, or visit centralwindowsystems.co.uk.