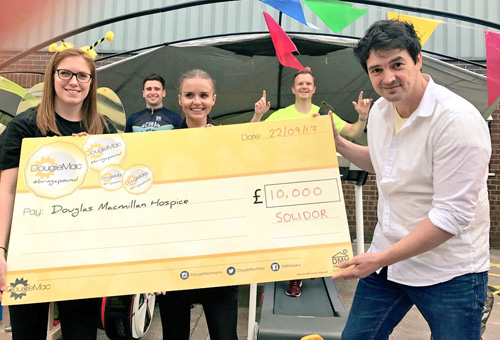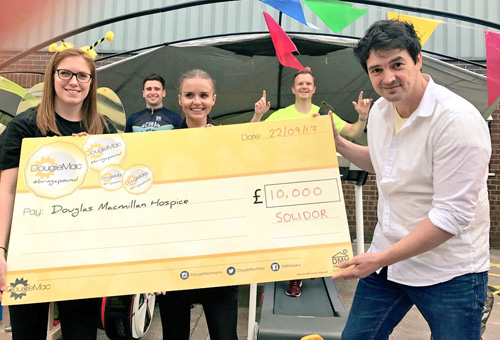 Composite door manufacturer, Solidor, has raised £10,000 for a Macmillan hospice in Staffordshire. Solidor asked its customers to pledge £1 for every door purchased in September and promised to match their donations.
Voluntary donations make up 75% of the £12m needed this year alone to maintain the services of the hospice. Established in 1973, the Douglas Macmillan Hospice is a 28-bed care facility for people facing incurable cancer, servicing primarily the North Staffordshire area.
Solidor's staff and customers were fundraising in association with the hospice's DougieMac 'Bring a Pound' campaign. This reportedly got particular attention on 22 September, when North Staffordshire was 'taken over' with fundraising fun and celebrations. At Solidor senior management took turns to run between 5K and 10k to complete a 50k challenge. Solidor's customer services manager, Cameron Edmonds, took on a 150-mile cycle while others made sweet treats and savoury snacks to sell on the day.
Solidor's customers joined in too. Blackburn-based installer, McDermott Windows, went a step further by pledging £15 for every Solidor purchased throughout September. Steven McDermott, MD of McDermott Windows, said: "We have a fantastic partnership with Solidor. They're always on hand to provide us with excellent support to help make our business a success. We wanted to show our appreciation by contributing to the fundraising. We were only too happy to help."
Gareth Busson, Solidor group's head of sales and marketing, added: "The generosity shown by McDermott Windows is overwhelming, we really do have the best customers in the industry. The Douglas Macmillan Hospice is a fantastic local charity and we know that the money raised will be put to good use. We're really proud to be able to support them. A big thanks must also go to all the Solidor staff who took part and did a fantastic job in raising money for a great cause."
For more information on DougieMac or if you'd like to support the charity with a donation, visit: www.dmhospice.org.uk.