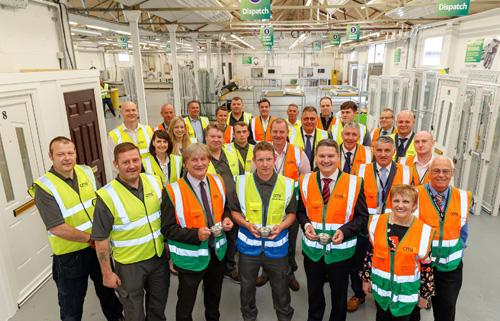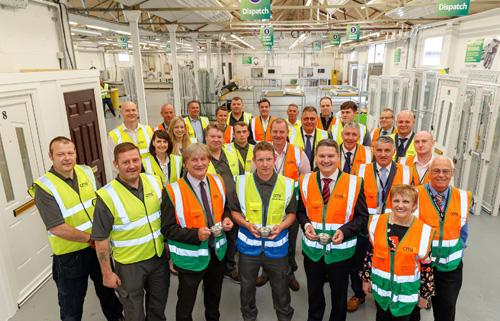 CMS Window Systems has expanded its manufacturing operations with the opening of a new 8,500ft2 factory in Kirkcaldy. The investment, reported to be over half a million pounds, has also boosted capacity at its recycling plant in Fife.
The new factory will be utilised for the production of doors, to add manufacturing capacity as CMS Window Systems experiences record growth fuelled by rising demand from housebuilders, social housing providers, trade customers and main contractors.
A number of new manufacturing jobs will be created, including employing two new apprentices, which takes the total number of Modern Apprenticeships created by CMS to over 100 since the business started in 2006.
The new factory opening comes as CMS Window Systems appoints David Ritchie as its new CEO. David takes the helm after six months as chief operating officer, in a move that enables previous CEO and business founder, Andy Kerr, to take up a new role as deputy chairman.
The new factory will initially produce around 200 PVC-U doorsets every week. Its portfolio of products will ultimately include composite doors and fire doors offering 30 or 60 minutes of fire protection. The new factory complements CMS' main 36,000ft2 operation in Cumbernauld, where it manufactures PVC-U and aluminium windows and doors.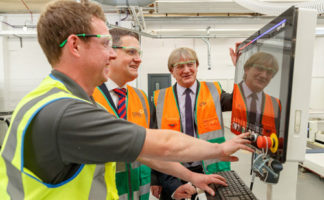 In addition, the business has also expanded its recycling plant on the Kirkcaldy site. This has provided additional capacity for processing post-use windows and doors as part of its unique 'closed loop' promise, which ensures virtually all waste frames, glass and metal hardware from replacement projects and manufacturing is directed away from landfill to be re-used in new products.
Speaking at the official opening, David Torrance MSP, said: "It's fantastic to see this investment in new manufacturing jobs here in Kirkcaldy and I'm delighted that CMS Window Systems has chosen the town as the location for its new factory. It's an extremely welcome move which will enable CMS to benefit from a high quality local workforce and Kirkcaldy's excellent location for serving the whole of Scotland."