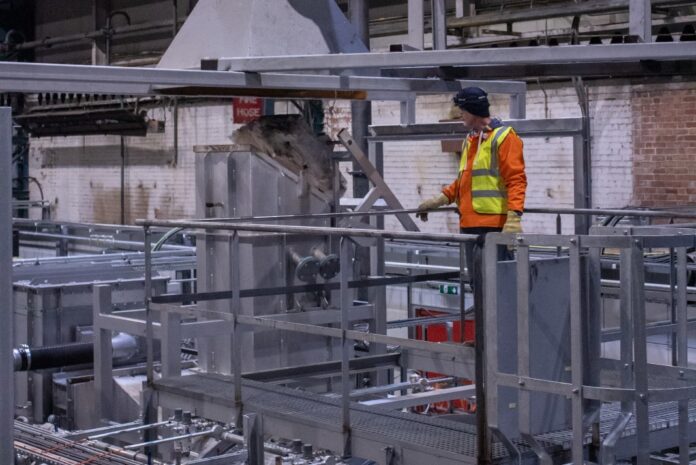 Trials to establish low-carbon alternative fuels for glass furnaces are currently underway, as part of Glass Futures' government-funded Industrial Fuel Switching Phase 3 programme. Glass Futures is a not-for-profit research and technology organisation. It was awarded a £7.1m contract in 2020 by the UK's Department of Business, Energy and Industrial Strategy (BEIS) to research and deliver new energy sources to the glass industry.
Glass Futures' work involves test firing hydrogen and bio-fuels in a scale model glass furnace, at temperatures in excess of 1500C, simulating real world firing conditions for alternative fuels. The project is also evaluating the associated technical, economic and environmental aspects of fuels.
Dr Palma González García, Glass Futures' industrial fuel switching innovation programme manager, said: "It was exhilarating igniting the furnace for the first time. This marks an important first step in a series of trials to assess the potential of low-carbon fuel technologies to decarbonise the glass industry in accordance with the government's net-zero target by 2050. As many furnaces due to be installed in the coming years will be expected to run for up to 20 years, new, low-carbon fuel technologies need to be proven, technically and economically, as soon as possible if the global glass sector is to fully decarbonise by 2050."
Watch a video of the latest test firing, below. A report based on this work is due to be published by BEIS this summer.
Professor Mohamed Pourkashanian, the University of Sheffield's head of energy research, added: "Working to understand how best to manufacture glass through a clean and sustainable process is a vital part of the drive to reach net-zero, for both industries and consumers. We are excited to be able to share our expertise in hydrogen, biofuels, modelling and simulation, to facilitate this innovative research, which is allowing for further significant steps towards the decarbonisation of the glass sector."
According to Glass Futures, whilst the UK glass sector has made progress by halving emissions in the last 50 years, there is a need to urgently accelerate efforts to increase energy efficiency and reduce CO2 emissions, to meet the UK's 2050 carbon commitments. The UK aims to deliver on its commitment to reach net-zero emissions by 2050.
Last January, glass container manufacturer, Encirc (a Vidrala company), and Glass Futures demonstrated that new bottles can be made from 100% recycled glass, using the energy from burning ultra-low-carbon biofuels. The process achieves a 90% reduction in carbon footprint.
Greg Hands, energy and climate change minister, said: "These fuel switching trials, backed by over £7m in government funding, demonstrate how we are supporting industry to decarbonise and move away from relying on fossil fuels. This is vital to reducing emissions and driving forward the UK's green industrial revolution."