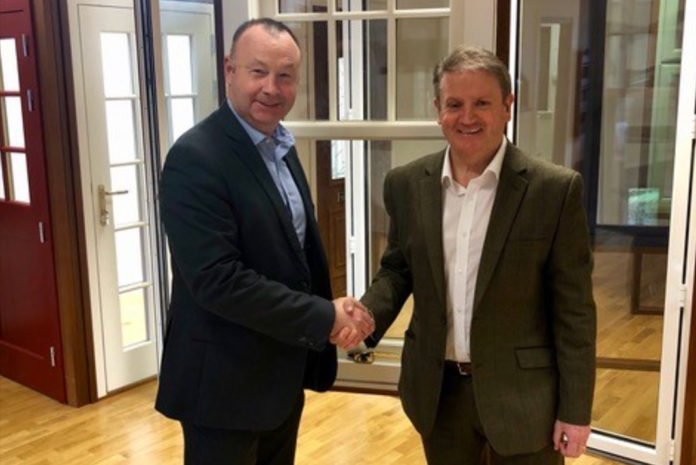 In 2018, the Saveheat Group is reported to have become the first company in Scotland to manufacture timber, aluminium, PVC-U and glass products for trade installers, commercial and construction industries.
This was as a result of Merlin Network (Scotland) being consolidated into the group along with the formation of Blairs Aluminium Systems in 2015. The group also comprises Saveheat Glass and Blairs Timber Windows.
Blairs Windows has announced that it is to introduce a new PVC-U production line, designed to improve the company's competitiveness and supplement the existing range of quality timber window and external door sets. Blairs Windows says that all products will be manufactured in its 120,000ft2 unit in Greenock. This latest round of investment is said to mark a further development of the historic Blairs brand, which was founded in 1913.
According to the Saveheat Group, PVC-U will be new to the manufacturing facilities in Greenock but will increase overall group capacity when combined with the long standing PVC-U production facilities of Merlin Network at Dalgety Bay, Fife.
"PVC-U will be new at Greenock, but the group has a wealth of experience to draw on. We already supply PVC-U to business in the West of Scotland and further afield and this investment is just the next logical step. We have big plans for the group," said Alex Grey managing director.
Merlin Network's expertise is in the window and conservatory sectors, while Blairs Aluminium Systems offers a full range of aluminium glazing systems. Saveheat Glass is a manufacturer of insulating glass units, whereas Blairs Timber Windows has traditionally provided bespoke windows and external doorsets.
Saveheat Group says that a large portion of the £1million investment will be in machinery. This will be supplied through a collaboration with The Saw Centre and Stuga. New ZX3 and ZX5 machining centres have been ordered along with state-of-the-art automated machinery.
Colin Torley, group sales and operations director, commented: "2018 was a fantastic year for our four companies and with Merlin Network returning record performances for the last two years we felt that we needed to expend the PVC-U side further. Investment and expansion are also planned for the timber, aluminium and glazing companies later in 2019 including a new plant for timber. We are also looking forward to the launch of a number of new and exciting products throughout the year".
The group says it is aiming for the new production facility to be up and manufacturing in April 2019. Already employing 150 staff across its manufacturing locations in the Central belt of Scotland, this expansion will provide up to 20 new job opportunities for the area.