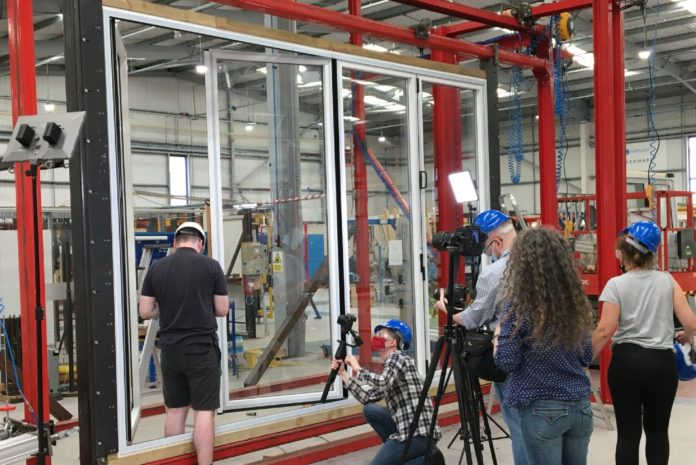 Decalu88, the next-generation bi-fold from Deceuninck Aluminium, has successfully completed PAS24 testing on a 3m tall door. The product was tested in June by Elements, and accredited by BM Trada. Two configurations of the the Decalu88 passed at the first attempt.
Nigel Headford, Deceuninck Aluminium's director, said that the accreditation was an important addition to the Decalu offer. "The Decalu88 bi-fold is a proven system. PAS24 gives us the additional approval in new-build applications. What for me is the really exciting achievement is how we went through testing, with first-time passes on two, 3m-high doors representing a very real achievement and evidence of how highly engineered this product is."
Launched at the beginning of 2020, the Decalu88 bi-fold has gained a following among installers based on ease of installation, its representatives say. Installation features include the glazing of each sash in as little as five minutes, through the use of a co-extruded, pre-inserted gasket, and two fully adjustable jambs, each offering up to 7mm tolerance, simplifying door squaring and setting.
U-values are as low as 0.68W/m²K, with each sash able to accommodate weights of 200kg and up to 3m in height. The product also offers design flexibility, while guaranteeing ultra-smooth running.
Deceuninck Aluminium put two door configurations through testing: a three-pane, 3800m-wide, open-in door in a 3-3-0 configuration, manufactured to a height of 2745mm. Sashes were 1210mm, with a reduced handle height on the opening door to emulate a 3m-high product. It also tested a four-pane, 4000mm-wide, open-out door in a 4-3-1 configuration.
"These are big doors, each sash was roughly 10ft high by 4ft wide," added Nigel. "What it also gives us is testing against a complete set of configurations, which means, going forward, our customers can offer a PAS24 tested door, regardless of configuration.
"We know we have a highly engineered product offer; we know it has incredible reach in home improvement and new-build sectors, and we also have test data. With the flexibility we can offer on colour, including marine-grade, dual colour and textured finishes as standard, it's probably time to get in touch!"
For more information call 01249 816 969, email deceuninck.ltd@deceuninck.com or visit deceuninck.co.uk.