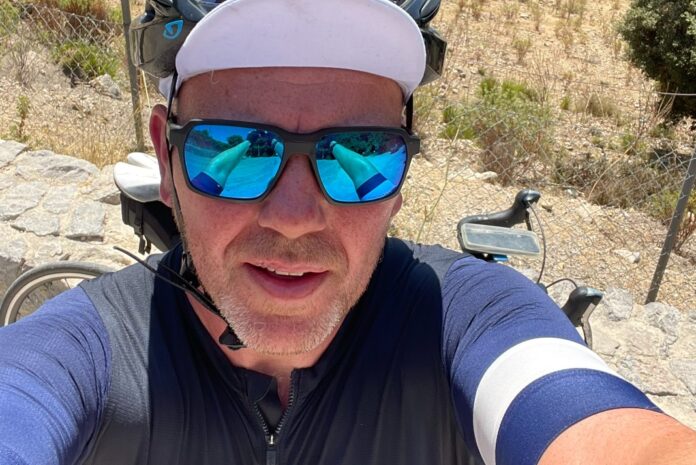 Dan Sullivan, managing director of DoorCo, has signed up to cycle the USA route of the Loneliest Road challenge, which begins on 24 September. The fundraising ride is in aid of the mental health support charity, We Mind and Kelly Matters.
"We Mind and Kelly Matters is a charity close to my heart," Dan explained. "In the early days of DoorCo, I used to speak to Kelly Hewitt [who the charity is named after] almost on a daily basis when she worked for the Glazerite Group. When we heard Kelly had chosen to take her own life following her struggles with mental health, both Jayne and I were devastated. And when John Hewitt, Kelly's father, announced he was setting up a charity in her name to help break the stigma around mental health and prevent suicide, we swore we would do all we could to support.
"We Mind and Kelly Matters became DoorCo's nominated charity. We launched a Pink Door Range in 2020 from which a proportion of the slab sales go to the charity, and have supported and sponsored other events like the charity's gala dinner last year, as well as doing internal fundraising with the DoorCo team. So when the cycling challenge was announced, it was something I wanted to get involved with. Sporting events aren't really my thing but I do love a challenge, and this certainly posed a big one!
"The ride is split into two parts. The first leg, which starts on the 10 September (World Suicide Prevention Day) will see 12 of 'Kelly's Heroes' cyclists travel approximately 1,900 miles and over 91,500ft climbing from Spain through France and Germany, cycling to reach Sendenhorst, Germany, in 10 days.
"I am taking part in the second USA leg, which starts on the 24 September. I will be part of a team of 12 Kelly's Heroes, cycling 3,343 miles and climbing 145,427ft in total over a 17-day period, starting in Newark [New Jersey] and finishing on the Golden Gate Bridge in San Francisco on 10 October, World Mental Health Day.
"Our overall goal is to reach a total of 52,000 miles, which is the distance it would take to go around the world twice – synonymous to the Mental Wellbeing ideology: "Ask twice". We want to break the stigma and raise as much awareness about mental health as possible, because it is OK not to be OK. My aim is to raise £10,000 from this ride, so any amount you are able to donate in support of the challenge will be hugely appreciated.
"Donations can be made online via this JustGiving page, and you can follow my progress on and during the build up to the ride on the DoorCo's social media channels – LinkedIn, Facebook, Twitter and Instagram." For more information about DoorCo, call 01625 428 955 or visit .door-co.com.