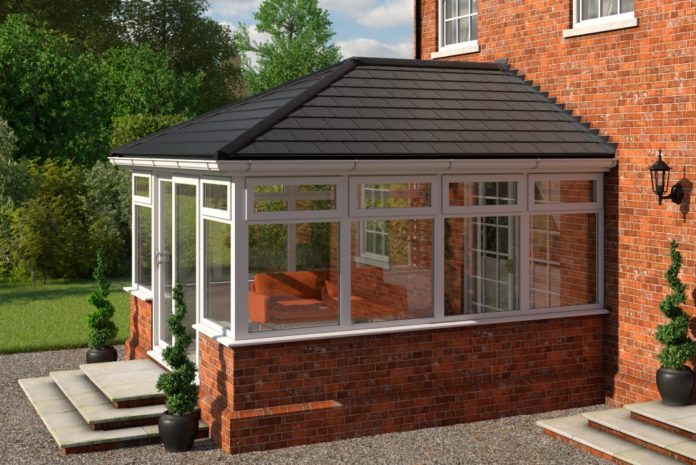 Eurocell's Equinox warm tiled roof solution, which reportedly delivers year-round comfort and usability for conservatories, has been enhanced with new upgrade options, to meet homeowner demands and help drive sales for installers. For example, a soffit ring beam has been added, to provide a traditional overhang appearance.
The new, 25°. fixed-angle soffit ring beam option can match homeowners' properties to create seamless integration. Soffit ring beams fully complement fascia boards and guttering; they can be fitted with one of the four current tile options: SlateSkin, steel, composite slate and Envirotile, and are available in a broad range of colours.
The additional soffit surface area can be specified with external downlighters. The lights can be installed as either a cool or warm white, and can be matched with a twilight sensor, which turns the lights on automatically as natural light fades. Downlighters can add atmosphere and a sense of mood to spaces, and enhance the appeal of the conservatory 'outside, inside' effect.
The Equinox warm tile roof range can now also be paired with Envirotile, Eurocell's precision manufactured recycled polymer tile, providing a solid tiled roof solution with reduced environmental impact. Manufactured in the UK using 75% recycled content, Envirotile is a sustainable and lightweight choice. It is available in two finish effect options: textured and slate-effect. Reportedly simple to fix with exceptional performance characteristics, it locks into adjacent tiles to form a fully integrated roof covering and can be used on roof pitches as low as 12.5°.
Sean Bunyan, Eurocell's head of commercial operations, said: "Our highly popular Equinox solid tiled roof range allows consumers to enjoy their conservatories all year round, remaining cool in summer and warm in winter. Equinox is helping transform additional conservatory spaces into an integral part of the house, while still enjoying the added light a conservatory provides.
"The new additional upgrades to Equinox are designed to provide greater choice for homeowners, whether they're looking for an overhanging soffit ring beam to enable them to have downlighters or for a more sustainable tile option. The ongoing enhancement of the Equinox range enables our installers to widen their offering to their customers."
For more information about Eurocell visit www.eurocell.co.uk.