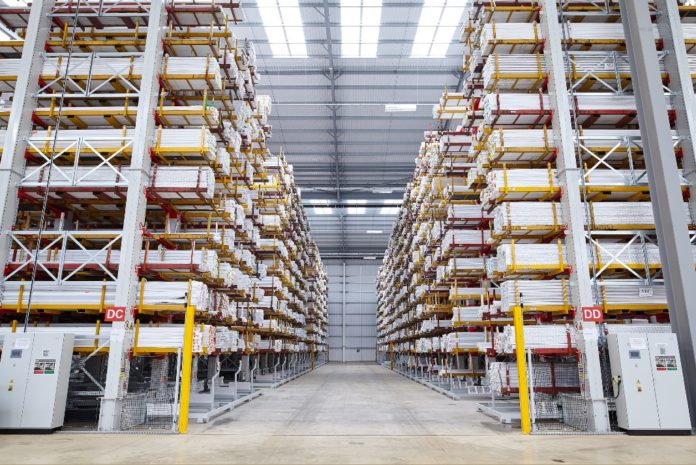 Eurocell – a manufacturer, distributor and recycler of PVC-U window, door, conservatory and roofline systems – has received the 'Warehouse Initiative of the Year' award, as part of the 2021 Supply Chain Excellence Awards. The award recognises the innovation and technological advancements introduced to Eurocell's new 260,000ft² warehouse, manufacturing and head office facility in Alfreton, Derbyshire.
Mark Kelly, Eurocell's CEO, said that he was delighted by the award. Eurocell's warehousing capability now includes a non-standard mobile racking system and an innovative materials handling equipment solution that interacts seamlessly with the racking. To support the operational effectiveness within the warehouse, a new, electric-powered fleet and 20 charging stations have been introduced on site to provide a better working environment for staff, as well as further driving the company's sustainability credentials.
Eurocell has also enhanced its manufacturing capacity, including commissioning new extruders and a foiling capacity that now exceeds 500,000 metres per week. All this means that it is well placed to meet the needs of the company's growing national network of fabricators and installers, as demand for its range of PVC-U systems continues to accelerate, its representatives say.
As recognised by the award, the new warehouse investment futureproofs the business enabling consistently high levels of service for years to come. It promises to deliver higher standards of operational efficiency by maximising the storage capacity available in state-of-the-art racking and introducing modern equipment to improve picking and replenishment times.
It will also support the company's sustainability objectives, which already ensure that it is the UK's largest recycler of PVC-U windows. Eurocell's closed loop recycling system collects, reprocesses and re-uses post-consumer and post-industrial PVC-U waste to manufacture new products.
Mark added: "Serving the needs of our supply chain is a top priority for the business. We have been able to aptly demonstrate how we will continue to do this effectively and efficiently in the years ahead, thanks to the forward-thinking and significant investment we have made at the new Alfreton site.
"The warehouse project was designed, fitted out, stocked and became operational within a 12-month timescale, despite the challenges of Covid, and is testimony to the teamwork and collaboration across the whole business. This is part of an ongoing programme of investment into all aspects of the business that will see us continue to push ahead with our growth ambitions based on product, service and sustainability excellence. Demand for our PVC-U systems across the repair, maintenance, and improvement market is growing, and we are committed to ensuring that our product development, manufacturing, and warehousing capacity will always meet our valued customers' expectations.
"After the challenges presented by the pandemic, we now look forward with optimism to working with and supporting our network of fabricators, installers, and our branches. The development of the award-winning Alfreton warehouse and production site is just the latest example of our long-term commitment to our customers and the industry."