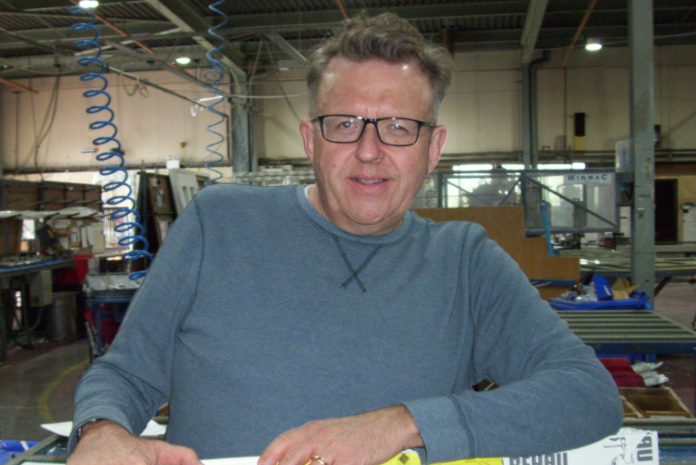 Barnsley based trade fabricator, Euroglaze, is celebrating both its 40th anniversary in 2019 and its 35th anniversary as a Rehau customer.
The company, which is still owned and run by the Nettleton family who founded it back in 1979, is said to be Rehau's longest running customer, having notched up 35 years of unbroken partnership.
Martin Nettleton, who succeeded his father Alan as managing director in 1999, says that the strength of Euroglaze remains its distinctive blend of smart and friendly customer service and precision quality products.
The company, which uses a lean manufacturing model based on Japanese production techniques, offers a comprehensive range of Rehau products – from fire rated windows and vertical sliders to casements and even the new Rehau Rio flush sash.
Martin Hitchin, Rehau UK's CEO, said: "We are delighted to have worked with Euroglaze for over 35 years and to have such a strong partnership with Martin and his team. We really value our business relationship with Euroglaze, and we would like to thank the team for making our partnership such a huge success for both our businesses."
Euroglaze says that it has adapted constantly over the past 40 years to remain at the very forefront of the PVC-U market in terms of efficiency and service, continually adding new products and new features so that customers 'simply don't need to go anywhere else'.
The company boasts a three day lead time on standard frames, an online ordering portal and a bespoke software system which offers paperless despatch and delivery and tracks everything from the packing of ancillaries to the unloading of vehicles.
Martin Nettleton added: "We can match all of the big super fabricators in terms of range and value, but we can easily top them when it comes to precision quality, efficiency, and customer service. Our systems and processes mean customers can take for granted the fact that their orders will be on time and in full, but they also know that they can just lift the phone at any point and talk directly to me or to any of our experienced customer service team and get a fast and efficient response to any question or query which might arise."
Over recent years, Euroglaze has added other new products to its group portfolio and now offers PVC-U, timber and aluminium composite windows and doors from the likes of Internorm, Rationel and Sunflex from its sister company Ecotec, alongside its well established Rehau product range.
This, Martin says, is part of its future strategy as it adapts to growing demand from customers servicing the premium market. He explained: "We produce around 900 frames a week in PVC-U and that remains the core of our business, but we have successfully diversified more recently and added an extensive range of more specialist products to open up exciting new opportunities for our customers.
"We're incredibly proud of our 40 year heritage, but we never want to stand still and we're constantly looking at how we can improve and develop. That extends from our products to our entire team, and from our factory to our vehicles. We have no ambition to be the biggest fabricator in the UK, but we have always aimed to be the best."