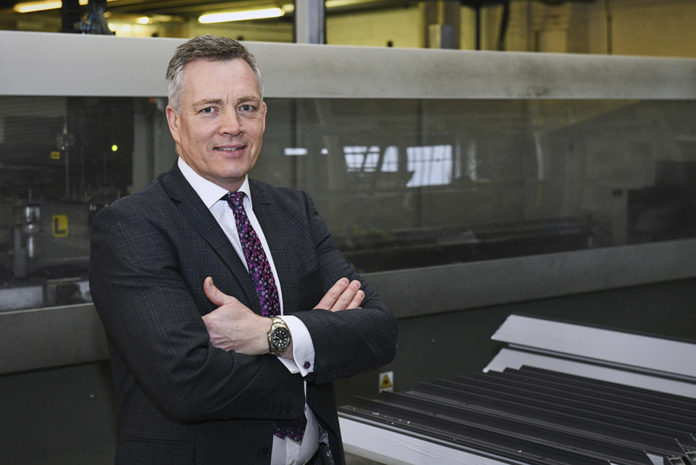 Stuart Judge, the former managing director of Crittall Windows, has joined Fusion Windows and Doors, which operates from a 10,000ft2 manufacturing unit at Hubert Street, Aston.
Fusion, which manufactures aluminium windows and doors, was recently acquired for an undisclosed sum by Key Land Capital's investments division in a deal which could see turnover increase by more than 100% in the next two years alone.
Stuart's career has also included spells at Everest, where he was commercial director, and Mumford & Wood. He believes there are exciting times ahead for Fusion.
He said: "Key Land has aspirations to take the business and use it as a catalyst to create something bigger and brighter. That is a wonderful opportunity and something I am excited to be involved in.
"The company is in a strong position to take advantage of a buoyant commercial and residential property market with its wide range of aluminium door and window products. We're going to reshape and reorganise the business, and then look to grow a portfolio of businesses in fenestration, windows and doors – the common theme being glass."
Key Land Capital director, Alex Sutherland, said: "To have someone with Stuart's pedigree on board is exciting for us and the business couldn't be in better hands.
"We have identified Fusion as offering a business which offers great opportunities to grow. It complements our own property development business, and we plan to use Fusion products on some of our projects. However, we also believe there is a strong demand for these products at commercial and residential developments right across the UK and it is this relatively untapped market that we intend to target."
The current annual turnover of £750,000 could be increased to £2 million in the next two years, and over £5 million in three to five years, added Alex. A 'high pedigree' management team is being assembled and a number of new jobs will be created.
Key Land Developments is reported to be delivering residential projects worth more than £40 million across the West Midlands.