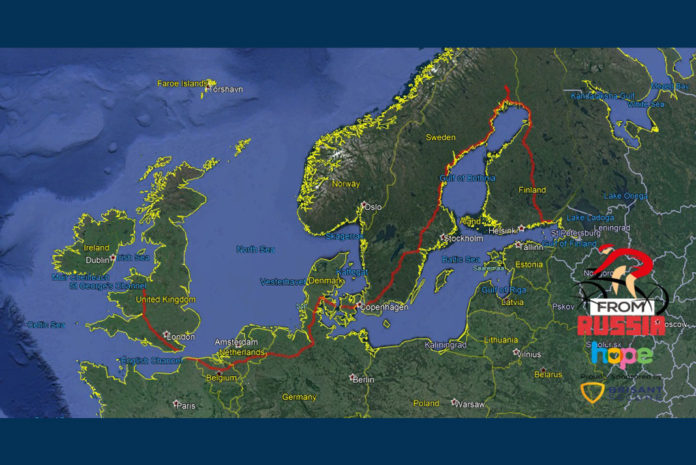 A team of 18 cyclists from the fenestration industry set off for the ride of their lives, yesterday. 'From Russia With Hope' is the last of its kind for GM Fundraising and promises to be the hardest challenge yet: 12 countries, 2,780 miles, 34,000ft of climbing in just 10 days, all to raise money for Hope House Children's Hospices, GM Fundraising's nominated charity.
Gary Morton, founder of GM Fundraising and 'From Russia With Hope' cyclist, commented: "This is our final cycling challenge and promises to be the hardest ride we've ever done. As such we want to raise our biggest total yet. Border2Border, our last ride in 2016, raised £195,766.92 for Hope House Children's Hospices and we're aiming to beat this. So, if you haven't made a donation, please consider doing so – the cause is so worthwhile. The ride costs are covered by the headline sponsor Brisant Secure and every member of the team covers their own expenses, so every single penny of your donation will go directly to the children and families at Hope House Children's Hospices.
"Hope House Children's Hospices provides respite and end-of-life care to children with life-limiting illnesses, through its two hospices – Hope House in Oswestry and Ty Gobaith in Conwy – 24 hours a day, 365 days a year. It also provides counselling, advocacy and bereavement support to all children, young people and family members for as long as is needed. The charity receives very little in the way of funding from statutory bodies and therefore must raise over £6.3 million every year just to maintain their services. GM Fundraising has been a major contributor to the charity for over 15 years and raises on average £130,000 per year by organising events and epic challenges such as 'From Russia With Hope'. If you want to understand the sort of difference Hope House makes to family, visit: www.hopehouse.org.uk/fundraising/hopehouseorgukdonate/stories.html.
"'From Russia With Hope' is the seventh and final major challenge for GM Fundraising," continued Gary. "We started in 2005 with 'Top2Bottom', which saw a team of 10, including current riders Alan Rothwell, Alan Sadler, Graeme Bailey, Gary Torr and myself, cycle 974 miles from John O'Groats to Land's End over 13 days and raised over £51,000. As you'd expect, every ride has got tougher and tougher and 'From Russia With Hope' is raising the bar once again. The 18 riders will be covering over 280 miles each day as they cycle from the Russia border, through Finland, into the Arctic Circle, through Sweden, Denmark, Germany, Holland, Belgium, France, England and Wales, before returning into England and their final destination of Hope House in Oswestry."
The team comprises: Gary Morton founder of GM Fundraising and CEO Boing Boing Group, Graeme Bailey of Business Micros, Gerald Allen of Epwin Window Systems, Gary Torr of Dekko Window Systems, Alan Rothwell of Patterson Rothwell, Alan Sadler of The Profix Group, Tim Tilley, Financial Adviser, Mark Bromley of Avantis International, Adrian Lewis of Frames Conservatories Direct, Andrew Glover of West Yorkshire Windows, Roy Frost of GJB Holdings, Richard Nowell of Nowell & Richards Insurance Services, Richard Gyde of Mila UK, Dave Thomas and Mike James of Haffner Murat, Glyn Moorhouse of Oakland Glass, Dean Hodges of BM Aluminium and Adrian Barraclough of Quickslide.
They are being supported by the 'unsung heroes': Bob Plant, Builder and cuts-man, Mike Derham of Mighton Products Ltd, Alan Rees of Panoramic Group, Paul Godwin of VAST PR, Tim Ferkin of Caldwell Hardware and Brendan Turner, Personal Trainer.
The average age of the team is 54 years.
Gary concluded: "The support we receive throughout these rides really helps us keep momentum and the power we need to keep going day in day out. Please help us beat our last ride total and really make a difference to the children and families at Hope House and Ty Gobaith.
"You can follow our progress on social media: like GM Fundraising on Facebook or follow @gmfundraising on Twitter and look out for the hashtags #FRWHope for regular updates as we make our way to our final destination of Hope House on Saturday 22 June. Most importantly, each member has their own dedicated JustGiving page for donations: www.justgiving.com/teams/frwhope. Please give what you can, it makes a huge difference."