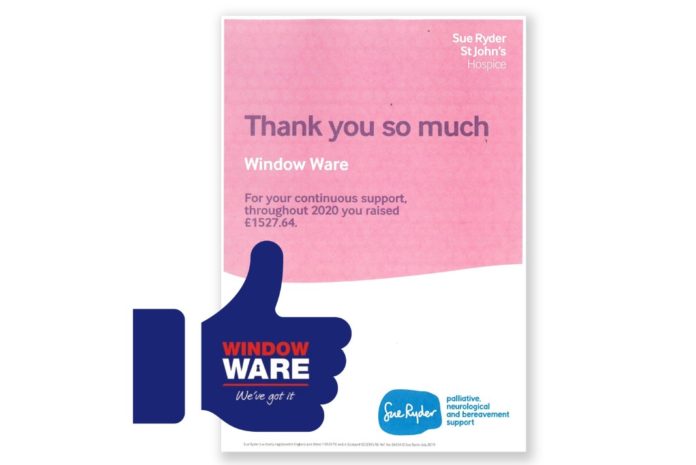 Window Ware's staff members raised £1,571.64 for charity over the course of last year, despite the coronavirus pandemic. The Bedford-based hardware distributor's chosen charity – Sue Ryder St John's Hospice in Moggerhanger, Bedfordshire – provides vital expert care for life-limiting conditions.
The Window Ware team's fundraisers included a trade counter tuck shop and a collection box scheme, which raised an impressive £340.43 before the first lockdown hit last March. In May, staff took their fundraising efforts further by participating in a 2.6 challenge from home, where they walked, cycled, bounced, burpeed and bench pressed their way to raising a further £412.
Window Ware also donated much-needed PPE to the hospice, including face masks and hand sanitiser, so that staff could continue their work safely.
Sam Nuckey, Window Ware's managing director, said: "Charities struggled last year because the pandemic cancelled many fundraising events and caused a drastic drop in donations, which meant we had to get a bit more creative about how we could support our Sue Ryder St John's Hospice. It was vital that we helped to keep their doctors, nurses, carers and specialists on the frontline, and I'd like to thank all our team who carried on giving and quietly did their bit to support the hospice when they needed help more than ever."
Hayley Webb, Sue Ryder's community fundraising manager, said: "Everyone at Sue Ryder St John's Hospice would like to thank Window Ware for their fantastic support to help make a difference to local patients and their families. We have faced unprecedented challenges this year, including lockdown, PPE, shielding and restrictions on visits from loved ones. It's thanks to this generous support that we have been able to continue providing care throughout."