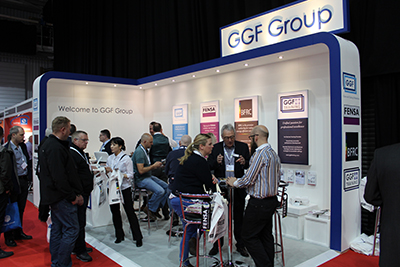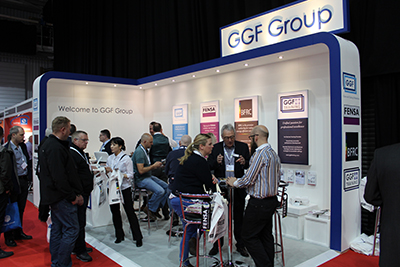 The Glass and Glazing Federation (GGF) Group has reported a 'highly productive and enjoyable' three days at The FIT Show in Telford last week, with hundreds of companies reportedly visiting both the GGF Group stand and the Master Fitter Challenge display area.
Nigel Rees, GGF Group chief executive, commented: "The FIT Show has proved to be a great success for all involved. I am delighted the GGF Group has had a significant contribution in terms of sponsorship, promotion and education. It is important for the brands within the GGF Group to be prominent at the UK industry's largest show."
The GGF Group was represented by four brands, GGF, FENSA, BFRC and GGF Training, all of which promoted new products and services to improve the industry.
In The FIT Show seminar programme, the GGF launched new trade guides for conservatory and window and door installation and specification, as well as the GGF Energy Savings Calculator.
The GGF says the seminars also provided a good platform for the GGF Heritage Window Group, with chairman, Alan Burgess, outlining the key issues affecting companies glazing in conservation areas.
Brian Smith, GGF director of home improvement, spoke each day about how the GGF is helping its consumer-facing members, following the launch of the revised GGF Consumer Code of Practice, now approved by the Chartered Trading Standards Institute. As part of his presentation, Brian also outlined the GGF's strong consumer protection schemes and highlighted how the GGF's new consumer website, MyGlazing.com aims to bring more consumers to GGF members operating in the home improvement sector.
Brian commented: "We are doing so much on the consumer side for our members these days that it is impossible to fit it all into a half hour presentation. I was pleased for those who attended the seminars and I hope they left with a strong flavour of how the GGF can really benefit their business."
FENSA, in conjunction with BFRC, officially launched 'FENSA WERs (Window Energy Ratings)', a free benefit to existing FENSA registered businesses, and sponsored the Master Fitter Challenge for the third consecutive year.
The winner of the competition was Craig Hanson of Pennine Retail Windows, who was presented with the trophy and a cheque for £5,000 by Brian Baker, chairman of FENSA at The FIT Show gala dinner.
Brian commented: "My congratulations to Craig on winning the Master Fitter Challenge. This year the competition's profile was raised considerably with the high quality of finalists demonstrating their skills for the first two days of the show, right at the entrance of the exhibition. It was once again a great feature of another outstanding show."
James Lee, head of GGF Group marketing and communications summarised: "We have yet to carry out a full internal review of the show in terms of our activity vis-à-vis our objectives, but the initial feeling is that this year's show has far exceeded all our expectations.
"In my opinion, it has not just been the biggest, but the best ever FIT Show. The GGF Group has already signed up for next year's show in May at the NEC in Birmingham."