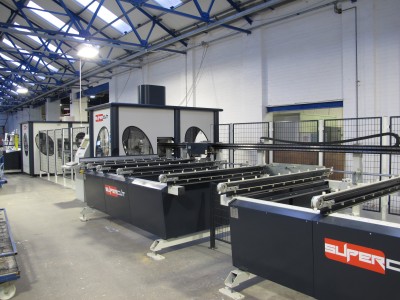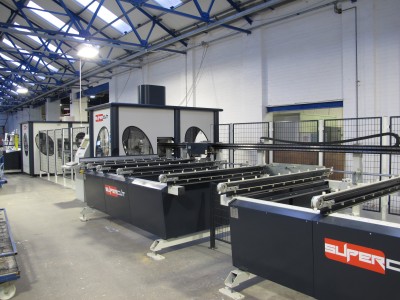 New machinery …new special products factory …more vehicles, more people and a broadside of new products …on top of the major acquisition already announced – all part of plans revealed by trade fabricator Glazerite Windows to celebrate its 15th successive year of double digit growth.
"This will be one of the most dynamic years in our history," said director, Jason Thompson, outlining the plans. "The success of our customers in 2015 was phenomenal and we saw record sales for Glazerite but now we are going all out to top that in 2016.
"We started the year as we meant to go on with the acquisition of Trade Frame Holdings but that was only the beginning of the plans we have for the rest of the year."
At the heart of those plans is a seven-figure investment programme that has already seen one new, highly advanced Supercut 6 cutting and machining centre installed, with a second to follow soon. Then, Glazerite will almost double its 'specials' capacity with a new 30,000ft2 unit to keep ahead of demand for its vertical sliders, Residence9, and bi-fold and patio doors that has already outgrown the existing 16,000ft2 specials factory in less than two years since its launch. Over £500,000 has already been invested in specialist machinery for the factory and this will now be brought forward into the new unit.
Further investments in people, machinery and the delivery fleet are expected to be announced during the year and at least four new products will be unveiled at the FIT Show in April.
The recent growth has not come without growing pains, Jason admitted. He acknowledged the patience of customers and reassured them that the new machinery is already overcoming any problems, adding: "We owe our customers a huge thank you for their continuing support and understanding."
He continued: "These are very exciting times for Glazerite and all of our customers and we are looking forward in 2016 to consolidating our position as Veka's largest fabricator as well as one of the UK's biggest independently owned window companies.
"We will be revealing much more about our new products and plans at the FIT Show but in the meantime we want all our customers to know that we are 'FIT for the Future'."
Glazerite recently announced the acquisition of Trade Frame Holdings, owner of Peterborough based Veka Halo fabricator, City Beads, declaring to grow the company's £4million sales to £6million in a proposed 18 months of investment.