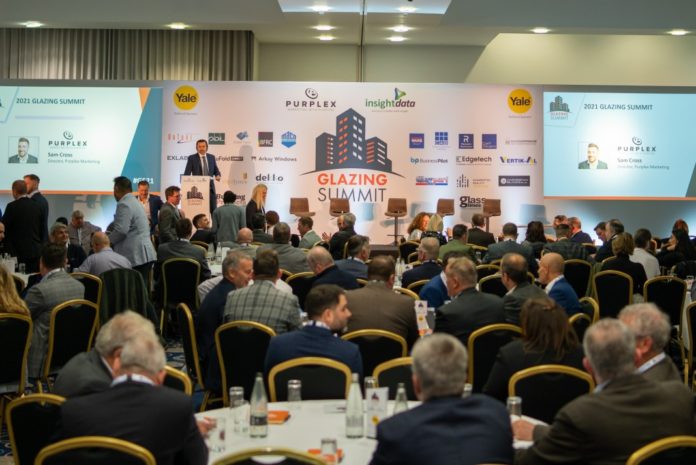 Over 400 business leaders from Britain's fenestration sector met at Edgbaston Cricket Ground, Birmingham, last week, for the 2021 Glazing Summit, organised by sector specialists Insight Data and Purplex Marketing. the summit took place for the first time in nearly two years, following a tumultuous period in the sector's history.
Across a day of debates, discussions and presentations, delegates pondered the huge challenges that the glass and glazing sector currently faces – and how to make the most of its opportunities. Addressing attendees on the first of the day's keynote speeches, the Glazing Summit's founder and CEO, Andrew Scott charted the dramatic changes that the sector has been through over the last 10 years.
Drawing on the expertise of industry experts Insight Data, Andrew revealed that the number of UK fabricators and installers has fallen below 14,000 for the first time. He also shared that 709 companies had been lost since 2011.
Later in the day, Greg Perdon, Bloomberg correspondent and chief investment officer for Arbuthnot Latham, gave an overview of the UK's performance relative to other major economies, and pointed to promising signs for Britain's home improvement market in 2022. After lunch, attendees were treated to a humorous and irreverent insight into organisational culture and sales strategy from international business consultant, Geoff Burch.
Throughout the day, panel debates tackled the industry's biggest issues. Expert panellists addressed climate change – questioning whether end users really care about the environment, and whether the industry's much talked-about commitment to sustainability is actually just a box-ticking exercise. Leading installers debated the soaring cost of materials, and whether the drastic price rises are justified, given the poor quality and service that many continue to experience.
Industry VIPs also contemplated the supply chain crisis, the changing dynamic between customers and suppliers, and when the industry will return to pre-pandemic levels. And, a panel of experts discussed the growing number of mergers and acquisitions in fenestration, predicting further consolidation in the months and years ahead as a result of Brexit, changes to consumer demand, and the continuing fallout of Covid-19.
"This year's Glazing Summit comes at a pivotal moment in the history of our industry," said Andrew Scott. "After the enormous upheavals of the pandemic, the sector now faces an unprecedented supply chain crisis, a worsening skills shortage, and the huge challenges posed by climate change.
"Navigating these issues will require leadership, vision, and collaboration between every aspect of fenestration. That's exactly the sort of open and honest dialogue that the Glazing Summit is designed to facilitate.
"After an amazing day in Edgbaston, I'm more optimistic about the future of our sector than ever." For more information about partnering with the Glazing Summit next year, visit glazingsummit.co.uk.