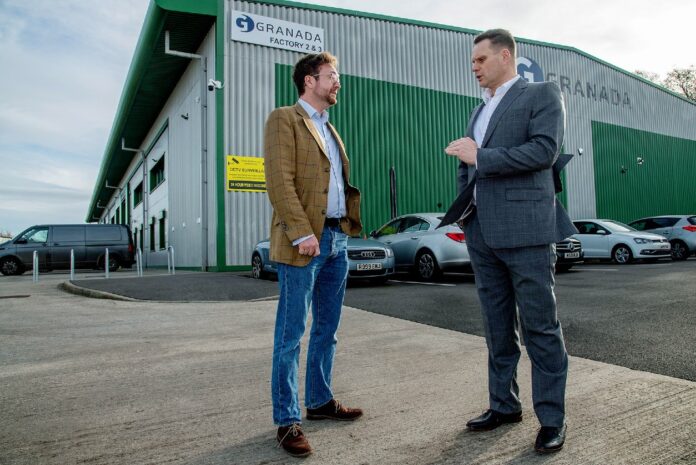 Leaders of Granada Secondary Glazing have welcomed local MP Alexander Stafford to the firm's Dinnington-based facility in South Yorkshire. Members of Granada's team gave the MP a tour, introduced him to staff and discussed ways in which legislation could incentivise homeowners to invest in energy-efficient home improvement.
Granada Secondary Glazing's representatives have reported sales growth of 40% over the last 12 months, which its leaders have attributed to increasing interest in energy saving measures like secondary glazing. The business is on course for its best-ever year, according to firm's spokesperson, and there are plans in place to create 17 new jobs to keep up with customer demand, we were told. The MP also heard how the firm has invested £1.8m into new production equipment and IT systems since 2020, and how £1m has been channelled into its new secondary glazing solution.
"There's so much talk about escalating energy prices, yet many households don't even realise that they are missing out on a simple and cost-effective way of insulating their homes," explained Craig Robertson, who joined Granada Secondary Glazing as managing director in February last year. "We've had some outstanding results in the installations we've completed recently and wanted to get the ear of government to see if there was a way that secondary glazing could enjoy similar incentives and grants that other home improvement products receive."
He continued: "With this in mind, we invited Alexander Stafford MP to have the conversation, so that he fully understood the thermal benefits of our products and what this translates to in pound notes. A conservative estimate indicates that up to 3m homes across the country remain single glazed, because of either cost or heritage restrictions. This is of course in addition to the countless number of commercial buildings within the UK that are facing the same issue.
"We were delighted when Mr Stafford agreed to put his name to a letter that we'll be sending to Grant Shapps, Secretary of State for Business, Energy and Industrial Strategy. This is a big moment for our sector."
Craig went on to add: "In line with business growth, we've been on a recruitment drive for much of the last year. We currently employ 68 full-time members of staff, with the intention to expand this to 85 over the coming financial year. The expansion of our sales team is going to be crucial in maintaining success, which is why we're currently in the process of filling three high-level sales positions throughout the UK.
"Everyone is focused on an incredibly ambitious growth target of £15m by March 2026, which would see us double turnover in just four years, boosting Yorkshire's manufacturing scene and helping hundreds of homeowners to save on their energy bills in the process."
Alexander, MP for Rother Valley, added: "It was fantastic to visit Granada Secondary Glazing, an innovative and fast-growing business right in the heart of my constituency of Rother Valley. The company is manufacturing a product that could potentially drive down everyone's energy bills, and I hope that my visit can generate some interest in secondary glazing amongst local residents. I'm extremely grateful to the team for organising this visit and for the opportunity to see the factory in action."