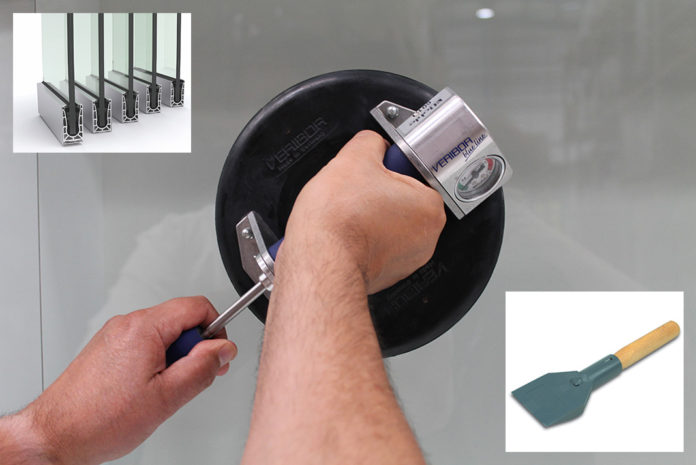 Bohle has provided a rundown of those products which it says are maximising opportunities for glass processors during COVID-19, as well as those for which it is seeing greatest demand.
Created as many glass processors return to work, Dave Broxton, managing director at Bohle, said that COVID-19 had created new opportunities while also delivering growth in some established ones.
He said: "It's fascinating to see where growth is coming from. There are more obvious emerging markets, for example, sneeze and cough screens; and in a similar area, speak holes.
"A growing number of established markets are also coming back since lockdown was eased and the position on working in other people's homes became clearer, for example, we've seen real growth in demand for shower fixings," he continued.
"It sets the scene for the glass processing sector as we go forward. Maximise returns in established markets as they return; but also make sure that where new ones are emerging, you're primed to take advantage of them."
Bohle's product rundown
Sneeze and cough screens
They appeared in supermarkets overnight but as more shops and businesses re-open, Bohle says cough and sneeze screens create opportunities across sectors.
It has launched its own dedicated solution for offices. Called VetroScreen, the system simply clamps onto either side of the desk and is tightened to provide a secure fix for a screen without drilling. It's also available as a free-standing option. Bohle has also published a series of how-to-guides, explaining how its pre-existing fittings can be used to manufacture protective sneeze screens and protective applications.
Speak holes and panels
Bohle says COVID-19 has also led to a significant uplift in demand for speech panels, speak holes and utility doors for fitting into glass. Bohle supplies three different options, impact resistant polycarbonate speech panels for information desks, banks and gatehouses; lighter duty oval speak wholes with lock-up speak rosette; and open/close, utility doors.
Glass cleaner
Bohle's sales of glass cleaner have jumped almost 10% in the last month as fit-out teams and glass processors introduce new surface cleaning regimes as part of safe working practices.
Gloves, masks, wipes and PPE
Bohle has reported a significant jump in sales of disposable gloves, masks, goggles and other personal protective equipment in April and May, as glass processors planned for the return to work.
Suction lifters
As companies review their in-factory and on-site manual-handling procedures, Bohle has seen an uplift of sales in its market leading range of Veribor suction lifters. They're tested to the ultra-stringent German TÜV GS mark – providing an independent guarantee of performance. They are also designed to have a minimum 2:1 safety margin to reflect real world usage.
This includes The BO 601G suction lifter. It's suitable for use on stoneware and metal – but is ideally suited for the safe handling of glass, whether that's in production or glazing on site, by forming an ultra-strong seal and hold and location for lifting.
Office partitioning
Many of us may have got used to working from home but forecasts for the office sector suggest that many of us will be returning to work, if we haven't done so already. This, according to Bohle, is creating a requirement for more defined working spaces while retaining the flow of light within previously open-plan environments.
Frametec Select, like FrameTec, Bohle's pre-existing office and domestic partitioning system has been designed to be easy-to-install, while also offering sound insulation of up to 39db.
Internal sliding doors
Bohle's internal glass sliding door system, MasterTrack, provides an alternative system for separating and defining space. It can be fitted in as little as 10-minutes delivering opportunities across home improvement and light commercial sectors. It accommodates glass thickness from 8mm to 12.76mm and maximum weights of 60kg, 80kg, 120kg and 150kg, as either a wall-mounted or ceiling hung system.
Balustrading
Bohle says that since restrictions were lifted, it has seen an uplift in demand for its residential balustrading system VetroMount.
It eliminates the requirement for specialist tools and because it's counterbored it's suitable for use with standard, rather than more expensive counter-fix fixings. The design of the system also means that drill holes can be set further apart at distances of up to 400mm (top-mounted).
Shower and bathroom fittings
We've spent a lot of time at home in the past few weeks and it appears jobs around the house have started to grate with many of us. Bohle says that it has seen a significant uplift in demand for shower and bathroom fittings, plus metal to glass primers and adhesives, as the industry and home improvement gets back to work.
Bohle's Bilbao Premium swinging shower door hinges accommodate weights of up 36kg or 50kg per pair and 8mm, 10mm, and 12mm glass. They offer an infinitely adjustable zero position, a plus or minus 15 degrees return motion and use concealed fixings.
Glazing shovels
Guidance on safe working practices during COVID-19 encourage workers not to share tools. This may explain the uplift in sales seen by Bohle at the beginning of May in sales of glazing shovels, as window and door installers prepared for the return to work.
"Some of these findings will be the product of underlying trends as glass processors and installers pick up on their pre-COVID-19 order books. Others, however, have a very direct link to the crisis, suction lifters, glazing shovels, PPE – sales suggest that the industry is planning for and adopting a responsible approach to the return to work," Dave concluded.