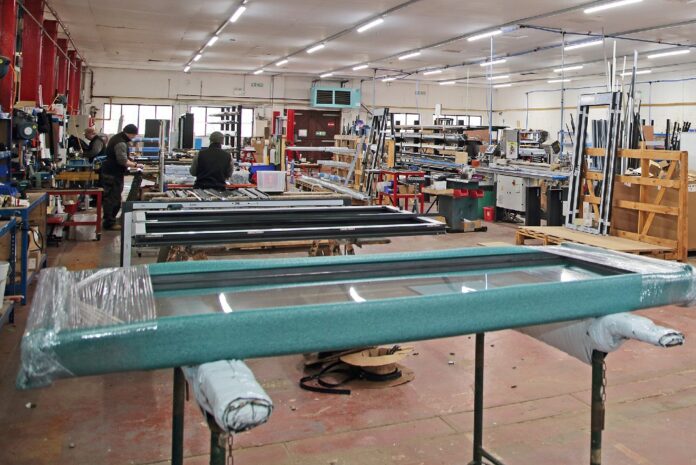 Leaders of the West-Yorkshire-based fabricator Hepworth Framework are inviting installers to visit the firm's manufacturing facility and showroom on Thursday 27 April 2023. To register interest in attending the open day, or to arrange a separate visit, email Adam Gaskin, sales trade advisor at adam.gaskin@hepworthframework.co.uk.
"At Hepworth, our business is selling bi-fold and patio doors and windows to our trader partners, installers and builders, for them to install into extensions, renovations and new builds," said Richard Steckles, the business' managing director. "However, as consumers continue to build home offices and other multi-functional living spaces in 2023, aluminium is totally on-trend and represents an opportunity for growth. Aluminium delivers more natural light through the larger glazing areas with its stronger but slimmer sightlines, creating light, bright spaces that consumers want. Not only does aluminium offer design flexibility, it is also sustainable and durable.
"This is great news for anyone making, selling and installing aluminium windows and doors. But to gain the most benefit, getting the supply right is critical. For that, you need to work with a reliable, professional, expert aluminium partner like Hepworth Framework.
"If you're already selling aluminium doors, windows or curtain walling, you'll be aware of the complexities and intricacies involved. Hopefully you have a manufacturing partner who supports you from the start of any project to the end. It's a different world from PVC-U, which is arguably easier from an operational and delivery perspective.
"But just because something can be more complex, it doesn't mean you should avoid it. In fact, with the right partner, you can reap far higher rewards with better sales conversions and profit margins too. That's what the Hepworth Framework team is here for.
"We're a family-based manufacturer of premium doors, windows and curtain walling systems based in West Yorkshire, with over 40 years' experience in the domestic and commercial fenestration sector. Three years ago, we recognised that demand for aluminium was just going to keep on growing so we invested heavily in a new purpose-built manufacturing site. This means more machinery and people to increase capacity, and the introduction of the fantastically attractive Cortizo system, to run alongside Senior Architectural Systems which we have been manufacturing for over 30 years.
"Hepworth is committed to continuing the strategic growth we've enjoyed over recent years, which runs in parallel with investment to create a sustainable business. We're now looking for new customers who want to offer a choice of aluminium systems with the backup of a knowledgeable team. We're keen to open up the world of aluminium and the benefits it can bring to home improvement door and window installers and retailers who are not yet involved.
"Join us for a Yorkshire brew and see just what goes into manufacturing aluminium doors and windows. Get inspired by what you could be adding to your business, with our help every step of the way."