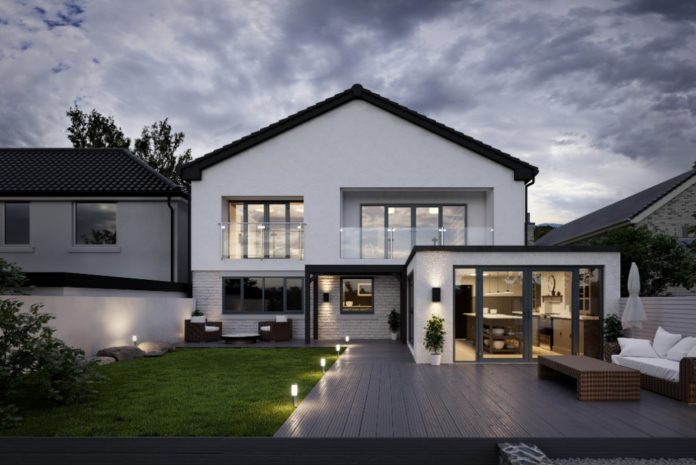 HWL Trade Frames has introduced the new Sheerline Prestige aluminium range from Garnalex, bolstering its existing portfolio of premium PVC-U heritage and flush products. The specialist trade fabricator will be offering its customers the complete Sheerline Prestige range of windows and doors, and is now taking orders for the bi-fold option. Sheerline won Glass and Glazing Products magazine's Installer Award for 'Best Technical Innovation' earlier this year.
"Sheerline is an outstanding system; it's going to have a big impact on the market due to its design, its choice of finishes but also because it is highly innovative," said Graham Howatson, director of HWL Trade Frames. "One of the standout features for us is the new design of thermal break. Called Thermlock, it helps to deliver exceptionally low U-values, but importantly, it does so without the need for a traditional polyamide insert."
A global shortage of PA66 compound, used in the manufacture of polyamide thermal breaks, has resulted in a force majeure from suppliers that is expected to remain in place until the start of 2022. This has severely impacted the ability of system companies who rely on polyamide strips to respond to ongoing high demand for aluminium products.
"We've already had a lot of interest from customers in our Sheerline offer, particularly for the bi-fold," continued Graham. "That includes those who are frustrated with lead times on their existing aluminium supplier, but also because with Prestige, we can now offer a combined, high-quality PVC-U and aluminium solution.
"Prestige perfectly complements our PVC-U products," said Graham. "That incorporates our Residence Collection range, including our non-glass bonded Timberweld R9, and our new 70mm Kommerling Timberweld flush casement."
Prestige is available from HWL Trade Frames as a casement and tilt and turn window as well as an entrance door, French door or bi-fold. Offered with PAS24:2016 as standard, it achieves Secured by Design accreditation when optioned with laminate glass, delivering U-values as low as 1.3W/m²k for double glazed and 0.9W/m²k for triple glazed windows.
Available in eight powder-coated matt colours, with options for a high-gloss white finish and for contrasting interiors as well as a further three anodised finishes, Prestige can be specified with a choice of two opening sash styles: 'Stepped' – which mimics a traditional steel window – and 'Contemporary'. Both styles are available as a standard, or as a flush option. For more information, email sales@hwlwindows.co.uk, call 0113 244 9006 or visit hwlwindows.co.uk.