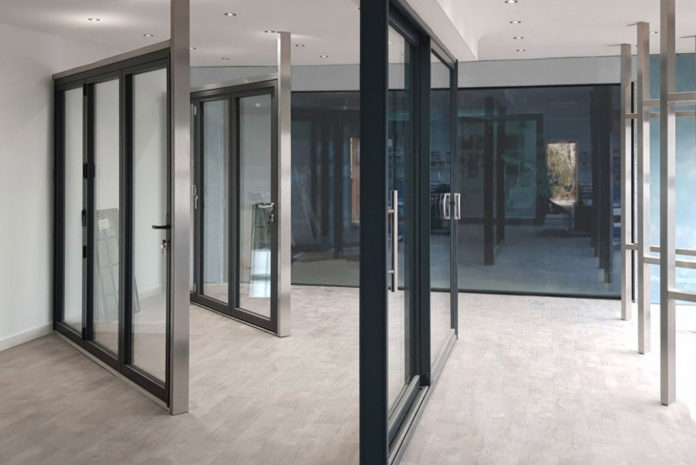 Alan Rees, the man driving the launch and rapid growth of Panoramic Group, set out his ambitions for the company at a recent press launch, during which he also unveiled a number of new products that included an aluminium 'hidden sash' tilt and turn window; a PVC-U version of its 'swing and slide' door; an aluminium flush sash with genuine timber cladding; an aluminium style PVC-U flush sash with prototype opening mechanism and a new cost effective, integral blind solution – all of which will be officially launched at the forthcoming FIT Show in May.
Alan is said to be a 'seasoned window' and door industry veteran, with achievements that include the creation of PVC-U window system Worth (now part of Spectus) and the popularisation of the PVC-U vertical slider through fabricator Quickslide, which remains a sector leader although Alan relinquished his interests in the company in 2005.
Having launched Panoramic Doors in the UK in 2014, Alan first established the concept in the United States to where he moved a decade ago. But despite enjoying enormous success in the US, where 250,000 Panoramic Doors are reported to have been sold so far, Yorkshire-born Alan's ambitions remain in the UK: "I have spent my life in the British window and door industry and my overriding ambition is to create a valuable group of window and door manufacturing companies that will make a very real impact on the market. But the impact I want to make is through designing and producing products that always bring something new, and which are renowned for their quality. And we are achieving that," added Alan.
Alan says he is now pursuing – and realising – that ambition with the creation of Panoramic Group, a vehicle within which Alan, aided by daughter Sharon Rees, intends to move swiftly and decisively to take advantage of opportunities that manifest themselves through acquisition and innovative product development. "The key to the speed at which we are growing is decisiveness," explains Alan. "There are a great many opportunities in the market currently. We are well funded and have a clear vision of where we want to be and how to get there. We will bring innovation and creativity to the companies that we add to the group, and even more so, the products."
Although unwilling to put a figure on his ambitions for Panoramic Group, Alan insisted that innovation and high quality would define their approach throughout: "The products that we have in our current portfolio, and company start ups and acquisitions that we have made even in the early days, speak for themselves. Whenever anyone sees a company or product associated with the Panoramic brand, I want them to immediately know without question, that it represents great design, manufactured using high quality materials and to the highest production values."