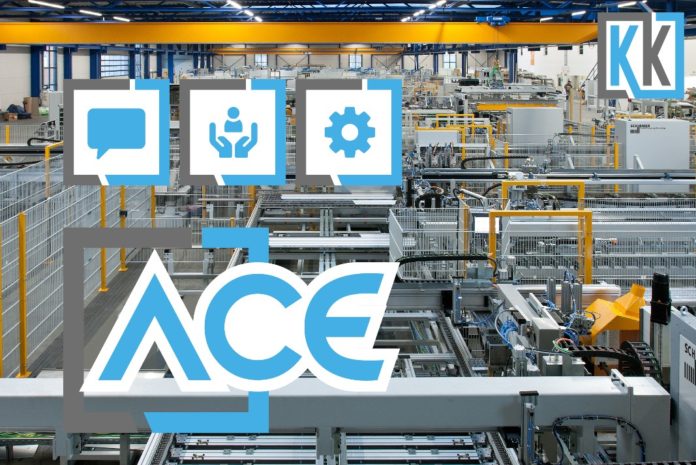 PVC-U window machinery expert Kall Kwik has launched a partnership scheme focussed on advice, care and engineering (ACE). The scheme, was created to provide fabricators with a support package that offers exceptional peace of mind, as well the tools to advance their businesses.
Benefits for companies signing up to be ACE partners include breakdown cover, regular servicing, discounts on spare parts, performance audits and a free consultation to assess how to improve efficiency and profitability. "Machinery is at the heart of all PVC-U window production," said Chris Bailey, Kall Kwik's UK and Ireland business development manager. "As any fabricator will tell you, when one machine goes down, it can have a massive knock-on effect to the whole process.
"When you have a burst pipe in your bathroom at home and urgently need a plumber, the call-out fee can be astronomical and the lead time excessive. It's often a similar situation with window machinery. That's why we've launched ACE – the advice, care, engineering partnership scheme.
"The first step of the scheme is to avoid breakdowns in the first place. Before signing up, our engineers will pay a site visit to undertake an inspection of the existing machinery and, if necessary, make recommendations for repairs or replacements. We will also carry out a free consultation to look at business processes, from order to dispatch, to evaluate any areas where efficiency can be improved. This could be anything from machinery upgrades, adjustments in software, alternative integration or a more streamlined production layout. Many of our recent recommendations have been at low or no cost to customers.
"ACE partners will also receive discounted engineering rates and spare parts, giving them precious peace of mind that if an issue did occur with a machine, they will have the support of our expert team to get them back up and running in the 'Kwikest' time possible. If you want to find out more about how to become an ACE partner, feel free to give me a call on 0161 486 1911 for more details."