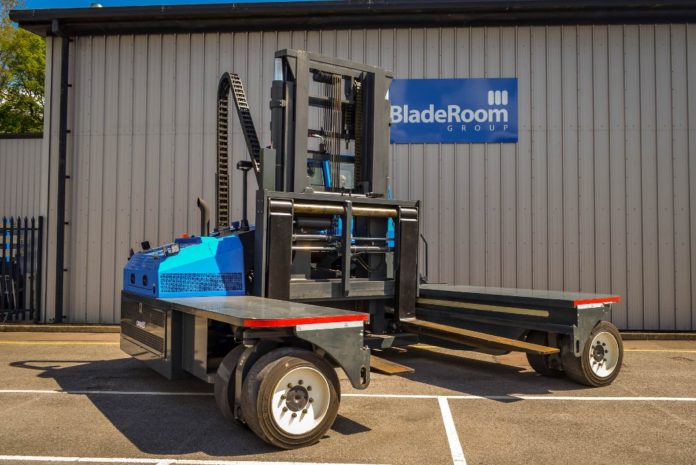 Combilift has delivered the largest multidirectional forklift to come off its production lines so far to modular data centre manufacturer BladeRoom. The 30t capacity C30,000 truck is now in operation at BladeRoom's factory in Gloucestershire, where it is ensuring the efficient handling of components for its server rooms, as well as the finished products, which are comparable in size to shipping containers and can weigh up to 19 tonnes at 1200mm load centres.
This is a "second first" for BladeRoom: it ordered a 25t C25,000 model in 2010, which was at the time the largest C-Series that Combilift had built. This is still in operation at the Mitcheldean factory, along with other Combilifts of varying load capacities, handling raw materials such as roof structures.
BladeRoom's data centres incorporate computer fluid dynamics to extract the maximum amount of heat with the minimum use of mechanical cooling for a highly efficient cooling system. The pre-engineered, factory-built, energy-efficient data centres are fully fitted out for immediate use, and are supplied within a much shorter timeframe than that for traditional structures. This minimises customers' capital outlay and offers the lowest possible operational costs.
"The initial challenge for BladeRoom was how to easily, quickly and safely manoeuvre these extremely large loads in and around the site," said Rob Perry of HFT Forklifts (Hereford), BladeRoom's MHE consultants and Combilift's dealership in the area. "Fixed cranes would have been too inflexible, and the sheer physical size of a counterbalance forklift capable of moving these structures would have taken up far too much space in the manufacturing area. Following the successful operation of the C25,000 over the years and the growing size and weight of the data centres, BladeRoom decided to scale up its newest Combilift."
The C30,000 measures around 5m x 5m, has a wheel base of 3725mm and is fitted with a John Deere Diesel 127 kW (170HP) engine. It incorporates customised features that enable the safe and stable lifting and transportation of BladeRoom's oversized loads. These include four cameras (one of which is a reversing camera), with two camera monitors in the cab, red danger zone lights and a tilt indicator in the cab display.
"It's a very impressive piece of machinery", added Rob, "and, in spite of its size, its four-way ability enables it to move easily around the manufacturing facility. We are very proud of the fact that HFT was instrumental in supplying the largest Combilift C-Series model, not just in the UK, but worldwide."