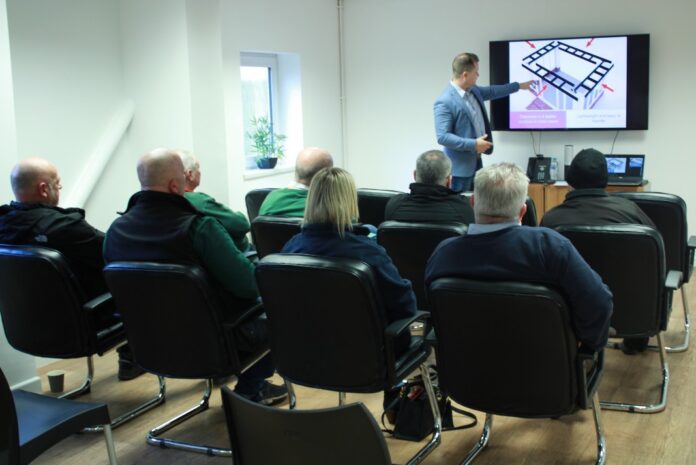 Representatives of the conservatory roof business Leka Systems have reported continued success for the firm's customer open days. Leaders from the business have hosted five open days for customers in the past month, and have reported that the events demonstrated surging interest from installers who were keen to add Leka products to their portfolio. Further open day dates have been scheduled to help meet growing demand, they say.
Rhys Hoddinott, managing director of Leka Systems, said: "Across our five open days we've welcomed 70 companies and over 100 representatives. We've already helped to generate over £100,000 in additional sales as a result. It all demonstrates the tangible value our products bring."
"We heard from several companies that they came to the open days because they were consistently losing out on jobs and wanted to join our network to avoid losing work in future," Rhys continued. "To support customers, we place a heavy emphasis on marketing and our understanding of homeowner demographics sets us apart.
"We've taken the time to understand buying motives, the trigger points in the sales process and the marketing channels that really work. As a result of our efforts, homeowners ask for our systems by name which is an exclusive benefit for our Leka partners."
Flagship Leka products include lightweight, tiled conservatory roof systems that can achieve U-values as low as 0.10W/m²K. Alongside the roofing systems, Leka offers the Leka Xi, a sustainable alternative to traditional block or brick-built conservatory bases or walls. The business also offers a carport and canopy.
"Most attendees came to hear about our roof systems," Rhys added. "However, they were delighted to see how much else we have to offer, as well as the number of unique selling differentiators we can add to their businesses to give them a competitive edge."
To join to the mailing list and be among the first to hear when new open day dates are announced, email sales@lekasystems.co.uk. "There has never been a better time to join the growing Leka network," said Rhys. "Don't miss out!"