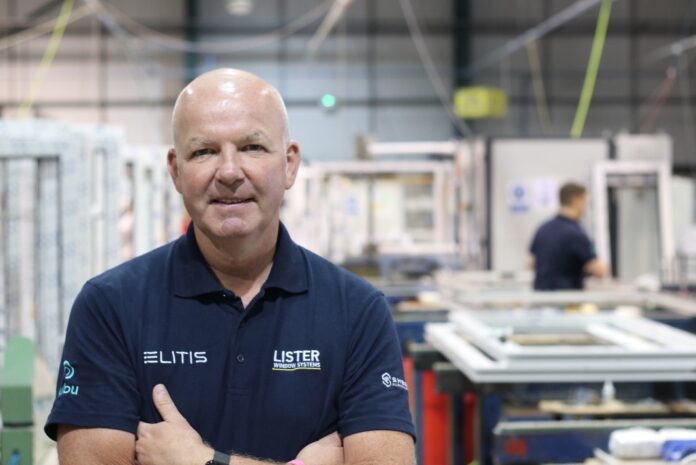 Listers has reported ending 2022 with a record month of £4m sales. The award-winning fabricator's sales were boosted by Sheerline and Residence Collection products, as well as the firm's own heritage Timeless window.
The Sheerline range was added to Listers' offer early in 2022, coinciding with major investment in an in-house aluminium manufacturing facility. Roy Frost, Listers' managing director, said that the fabricator had seen consistent growth in demand throughout the year, contributing to its record £4m month in November. The firm was also named Fabricator of the Year as part of the National Fenestration Awards in November.
"We brought the Sheerline bifold on because of its thermal performance and because of the installation efficiencies that it delivers, including its knock-in glazing bead," Roy explained. "We've expanded the range to include the Sheerline roof lantern and the Prestige window range, which gets down to U-values as low as 1.3W/m²k with a double-glazed unit, 0.9W/m²k with a triple-glazed. We've also added the Sheerline Classic window to our offer this month.
"The thermal performance is exceptional across the range. With Part L, high energy bills and freezing temperatures, Sheerline is creating big opportunities for our customers."
Listers has also successfully aligned its PVC-U and aluminium ranges so that standard aluminium finishes, including agate grey on white, are available on the same rapid lead times as PVC-U, including R9, R7 and Lister's own Timeless heritage flush casement. Roy said that making aluminium and PVC-U products available on the same lead times had been important in underpinning growth.
He added: "Our strategy has been to focus on premium products but to recognise that end users may want a mix of products in aluminium and PVC-U on their home. It's not about a single material. Having a single point of order and delivery for PVC-U and aluminium, rather than to source them separately, simplifies things for our customers so they can focus on winning business and getting product fitted."
Growing demand for aluminium has been matched by continuing demand for flush and timber-alternative product ranges, including R9 and R7, Listers' representatives have reported. These are available from Listers in a heritage, mechanically jointed option and supplied as Secured by Design as standard. Manufactured in Veka Halo's heritage flush sash system, Listers' Timeless flush sash window offers an authentic alternative to timber with slim sightlines, a choice of Georgian bars, traditional ironmongery and a dummy peg stay option.
Roy said that Listers had been careful to manage growth to ensure that it was sustainable, with £2.5m invested across its manufacturing sites in Stoke and Essex. "We've also worked hard and will continue to do so, to retain and recruit quality people", he said. "We introduced a £1,000 cost of living allowance in May and committed to make that permanent this month. We've also decided to move to the new minimum wage now, ahead of April, to support our team with rising costs.
"That's important because products and processes are ultimately underpinned by people. We're building a really strong team. That's reflected in the growth that we're seeing, and we want to retain them."