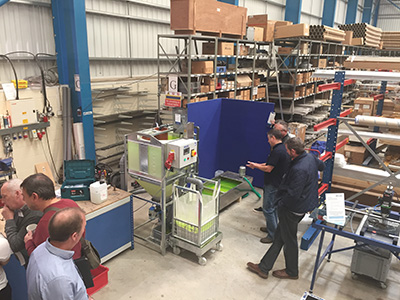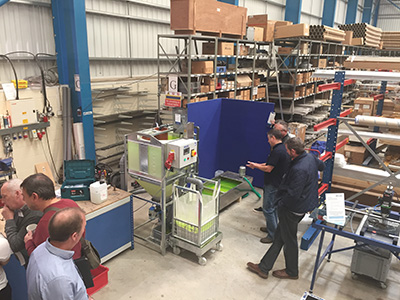 Bohle has showcased the latest innovations in glass-processing technology during a series of 'Innovation Days'.
Held at the company's Greater Manchester HQ, the 'drop-in' event pulled in visitors from all parts of the UK and Ireland over two-days, as the glass processing consumables, machinery and tools specialist, profiled a raft of new technologies and cutting-edge innovations.
This included practical installation demonstrations of Bohle's Slidetec Optima 80 internal sliding door system, which supports weights of up to 80kg, while eliminating pre-drilling of glass, using smart clamping technology.
One of the highlights of the event was Bohle's new free-to-use, shower configurator, which simplifies shower specification.Customers can simply log on to the Bohle website and design professional shower enclosures with a complete list of components, 3D illustrations, cut out details and even export files suitable for CNC cutting equipment.
Other product highlights included the Scratchaway scratch removal system; Bohle's highly flexible belt grinding machine, Versalux+; Pico drilling machine and Aqua Power Drill+, plus its Liftmaster B1 lifting system.
Bohle's sedimentor offering also attracted 'significant interest' with visitors reportedly flocking to the live demonstrations to see firsthand how the coolant cleaning technology can save them time and money whilst increasing output and improving quality. One visitor bought the demo Sedimentor on sight, stating it would pay for itself within six months by avoiding cleaning downtime alone.
The days also featured master classes in manual glass cutting from Ursula Bayer, one of Bohle's master glaziers, [see twitter @BohleLtd for video].
Dave Broxton, managing director, Bohle, said: "The turnout that we have seen over the past few days is indicative of the appetite that exists among glass processors for new technologies.
"The sector has always evolved and it continues to move forward at pace as innovation delivers new possibilities and applications.
"What's been great about the Innovation Days is that our customers have had the opportunity to try first hand, some of the systems, tools and machinery that we offer, but also to catch up with other colleagues from the industry and to share experiences.