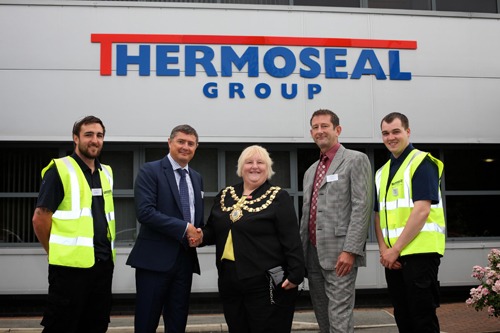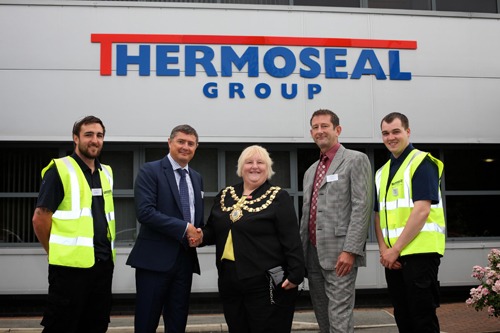 The Mayor of Wigan Borough, Councillor Susan Loudon, visited Thermoseal Group's expanding warm edge spacer manufacturing facility in Wigan recently, to honour the Group's growing contribution to the local economy.
Thermoseal Group, which now has 50 employees from the local area, set up the manufacturing base for production of energy efficient components, including its Thermobar and Thermoflex warm edge spacers.
The company, which now boasts a manufacturing facility of over 60,000ft2, says it has grown to accommodate the increasing demand of these products from both UK and export markets.
This growth has also reportedly led to an expansion of the group's Birmingham based injection moulding division to supply compatible warm edge energy efficient components to be used in conjunction with Thermobar and Thermoflex.
Councillor Loudon said: "Thanks to Thermoseal Group for the tour around their expanding manufacturing facilities. It was very interesting to see the investment in manufacturing and also in training and developing local people. I am always pleased to support the local business. I look forward to seeing further growth in this business and particularly their sales to export markets."
The group's owner and managing director, Gwain Paterson, said: "We are extremely proud of our accomplishments in Wigan and thankful to the mayor for taking the time to come and see us. It hasn't been an easy task to set up a bespoke manufacturing site for the production of warm edge spacer bars. Much of the production equipment and training and development on operating the equipment has been developed in-house. This has been a huge challenge for us, but has given us the opportunity to take on staff and train them to our own exacting standards.
"Our ultimate goal has always been to grow from being a leading UK manufacturer and supplier into a large international player. Therefore, we are now concentrating our efforts on increasing production and gaining a share of the export market."