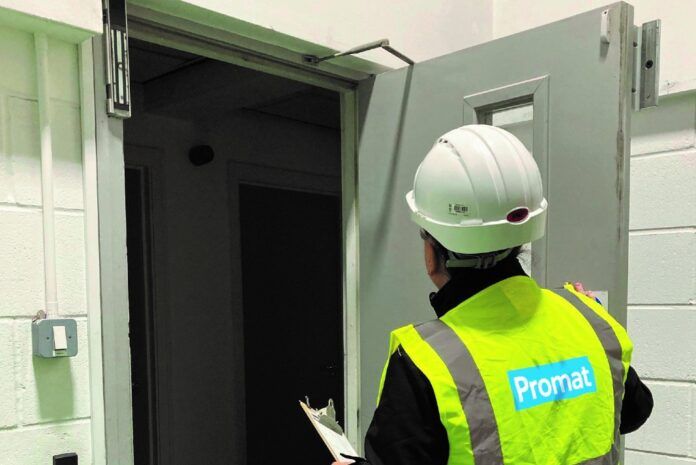 The Promat team has pledged its full support for Fire Door Safety Week (FDSW), which begins today, promoting the British Woodworking Federation's initiative through social media and communications with customers and suppliers. Staff of the fire-resistant door and glazing systems manufacturer have also used the FDSW toolkit to carry out additional fire door safety checks across its site in Heywood, Lancashire.
A range of Promat team members – including people whose day-to-day work involves designing, manufacturing and supplying products – have taken part in the safety checks. Together they were taught about the five aspects of an installed fire door that need to be checked regularly to ensure that the door is fit for purpose and safe.
The team behind FDSW recommends checking that each fire door has the necessary certification in place and ensuring that any apertures such as air grilles have not be altered. They also also highlights checking the consistency of gaps and seals around a door frame, making sure that closers work correctly, and assessing that the door closes fully around the whole frame.
"We're 100% behind Fire Door Safety Week because it is so important to remind people that we shouldn't take fire doors for granted – they are here to save lives," said Cath McLean, sales manager for Glass at Promat UK. "All the fire doors on our Heywood site are checked annually by independent inspectors but we thought it would be a great idea as part of FDSW to give anyone in our team the opportunity to learn more about why we need to check the condition of all fire doors, and how they help us stay safe at work."
Promat UK is a passive fire protection specialist. The brand's product range includes timber door sets that are manufactured to offer a fire rating of 30 to 60 minutes, and glass doors that feature fire-rated steel frames. Read more about Promat UK's fire doors and fire-resistant glazing systems by visiting this page.