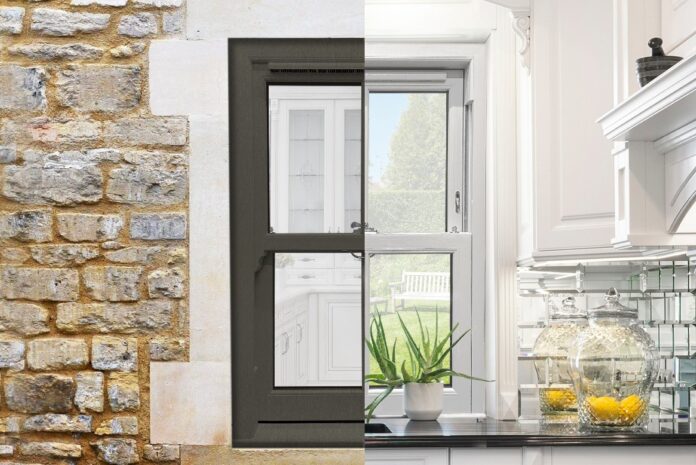 Quickslide has launched additional colour options, including exclusive dual foils for vertical sliders. A new 18,500ft² dedicated foiling facility has given the door and window manufacturer the ability to increase its in-house foiling capacity by 30%, and to bring out more new colourways quickly as trends change.
The business surveyed trade partners to help inform the new colour selection. Contacts were asked which dual colours they thought had the greatest sales potential, as well as their thoughts on what foiled finish might be most likely to increase sales in the next 12 to 24 months.
"Based on the responses we've launched our new colours," said Ben Weber, Quickslide's managing director. "We're most excited about our dual colours for vertical sliders, which are now available in exterior/interior combinations of grey woodgrain/heritage white and agate grey/heritage white. We've also included a white woodgrain/smooth white option for vertical sliders from stock, as well as launching smooth grey available across the entire Deceuninck range."
Of the foils that Quickslide currently offers, the survey revealed that white woodgrain remains a top choice with customers, along with agate and anthracite greys. This is reflected in the new colour options. Cream woodgrain, Chartwell green and black foils were also highlighted as top sellers, followed by golden oak, rosewood and Irish oak.
"Overwhelmingly, our survey showed that our partners find foiled finishes an easy upsell to customers, which is why it is so important we respond by keeping our colour offerings fresh and up-to-date,' said Ben. "Having in-house foiling capability and recently moving this to a dedicated and expanded facility gives us the capacity and ability to react to new colour trends quickly and cost-effectively.
"Listening to and reflecting our partners' needs so they can make sure they are meeting those of their customers is absolutely crucial to our business. We can only grow our business if our partners can do the same."
The full range of Quickslide's colour options for sliding sash windows can be seen online at quickslide.co.uk. Detail about about Quickslide's colour bonding service for bespoke colours can also be found online.