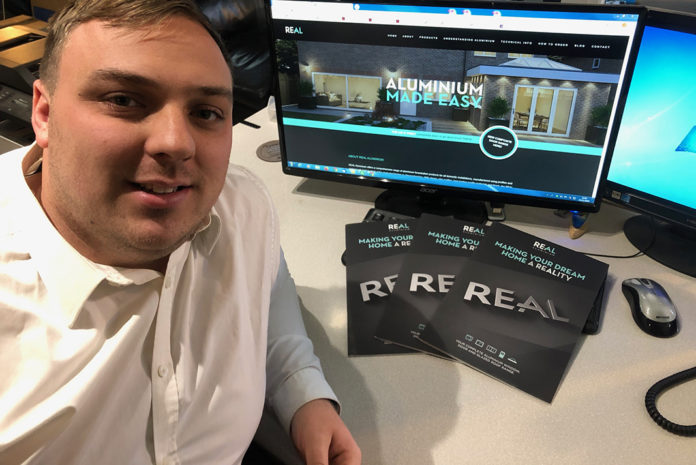 The new online quoting and ordering system from Real Aluminium is reported to have helped one installer to achieve a sales conversion rate of 85% on Real Aluminium windows, doors and glazed roofing products.
Leicestershire-based aluminium specialist, A14 Glass Rooms, says it has also seen a fivefold increase in Real Aluminium sales this year and boosted profit margins since it began quoting and ordering Real products online.
James Greenway, director at A14 Glass Rooms, explained: "It's been a bumper year for us, which in no small part is down to the incredible support package we receive from Real Aluminium. The tipping point for us was when we switched to online quoting and ordering from Real – it has made the whole process of quoting and ordering products faster, easier and far more straightforward. We once had to manually create drawings and then wait two or three days for quotes to be processed, but now we can configure and quote products ourselves in a matter of minutes.
"First impressions are important when you're attracting new customers and being able to produce professional looking quotes so quickly has certainly enhanced our image and helped us to convert a very high percentage of quotes into profitable business."
According to James, he first saw the Real online quoting and ordering system when it was unveiled at the FIT Show and was 'immediately impressed' with the ease and speed with which quotes and orders could be managed. Having decided to commit to the free software, he went along to a day-long training seminar where he learnt how to use it.
"The system is really easy to use, and I went away knowing exactly how to accurately price and order Real Aluminium products and speed up what was once a time-consuming process," he commented. "No installer wants to make mistakes, especially with a premium product like aluminium, and this system minimises the risk of errors by guiding you through each stage of the quoting and ordering process. Moving to the new software was seamless and we're now using it to produce up to 100 quotes a month. It is an invaluable asset to our business, and I would definitely recommend it to another installer."
A14 is said to be one of a growing number of Real Aluminium installers who are using the new software. Every installer that signs up for the software receives a tailored training session, free of charge, that is designed to help them get the most of out of the cloud-based system.