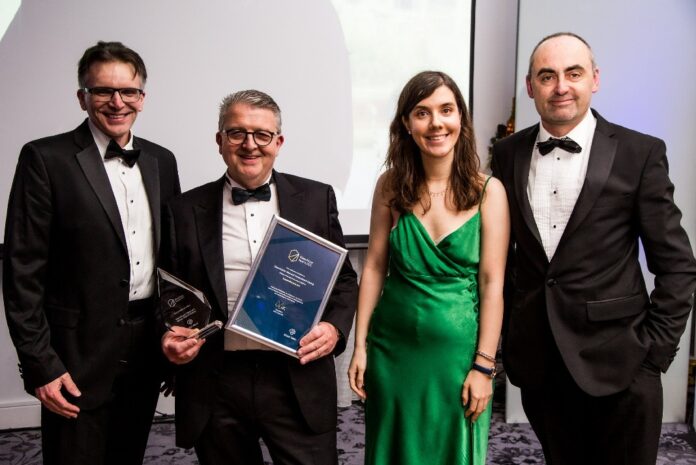 A pioneering glass recycling collaboration between Saint-Gobain Glass and Morley Glass has been recognised by the UK glass industry's representative trade body, British Glass, winning the 'Sustainable Practice' award at the Glass Focus Awards 2021. The award was presented at a ceremony attended by more than 100 people, in central Manchester, on 18 November 2021.
The joint initiative enables post-consumer glass units from window and door replacements to be collected and crushed to make new glass. The scheme saves energy and raw materials as well as benefiting the broader community in four key stages. Firstly, Morley Glass collects the old glass units that installers of its Uni-Blinds integral blind units remove during window and door replacement projects. This waste glass is taken to its Leeds headquarters and manufacturing centre, on the return leg of its daily deliveries. Stages two and three involve crushing the post-consumer glass units on site at Morley Glass, to create high-quality glass cullet. This is then collected by Saint-Gobain Glass for use as a raw material in the manufacture of new float glass at their Yorkshire factory, helping to reduce the need for 'virgin' raw materials. The final stage is putting the revenue raised from the production of glass cullet to good use in the community, through the GreenVision fund. This enables environmental micro-initiatives and charities across West Yorkshire to apply for grants of £500 to support their activities, which has so far provided money to pay for everything from raised vegetable planting beds to the redevelopment of a primary school's garden.
The benefits of the initiative are far reaching, according to Ian Short, managing director of Morley Glass, who said: "We are absolutely thrilled to win at the Glass Focus Awards 2021! The initiative has been a huge success since we started in 2019, so much so that we have recently had to replace our original machinery with a fully automated plant that triples our glass processing capacity.
"To date, the scheme has collected over 1,200 bags of glass cullet weighing more than 680 tonnes. This has reduced the need for virgin sand, which is used in glass manufacturing by more than half a million kilos. But, as every tonne of cullet saves 300kg of CO2 emissions, and the amount of energy needed to power the average home for six months, we have been able to make energy savings to date equivalent to 341 'energy years' for the typical UK home."