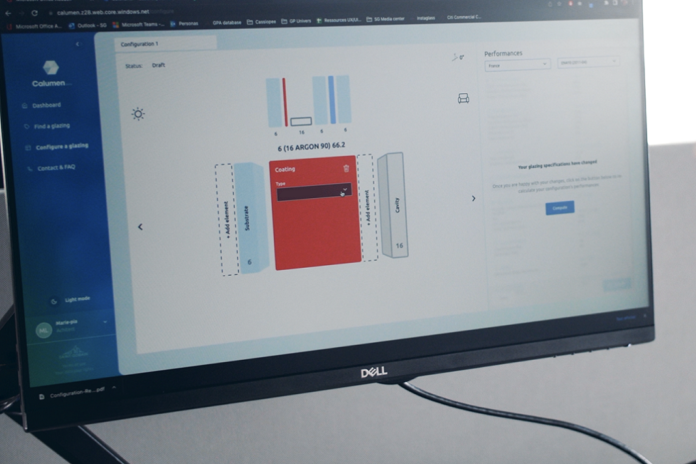 Saint-Gobain Glass has relaunched Calumen, a free online glass configuration and specification tool to help window fabricators and glass processors select the right glass for residential and commercial projects. Calumen is the first online tool from the company's new collection of digital services, Calumen Suite, and replaces the former CalumenLive service.
"Calumen has been redesigned to provide new functionalities through a user-friendly interface, to help architects, designers, consultants, façade engineers, window fabricators, glass processors and contractors find and evaluate the most suitable glazing options for their project," said a Saint Gobain representative. "Calumen is a digital simulation program that calculates the required technical performance and comfort factors that are most important to glazing projects, such as minimum light transmission, maximum solar heat gain, high-performance acoustics, low external light reflectance and a host of other options. It calculates the performance of any single glass or combination of glass types and thicknesses.
"New functionality includes the ability to compare multiple glass types, duplicate previous specifications, render illustrations, view certifications and utilise a comprehensive acoustic database. As a cloud-based system, Calumen updates automatically, ensuring that the next time you log in, you have access to the very latest product information and technical data. With its all-in-one design and ease-of-use features, new Calumen is the 'perfect tool' for finding the right glass for architectural projects of any size, including residential windows and other applications of glass in buildings."
Available in 13 languages, Calumen can be accessed at calumen.com. Beyond this initial launch, leaders of Saint-Gobain Glass aim to gradually add new services and functionalities to Calumen Suite, to provide additional support to building professionals.
The representative added: "The name 'Calumen' is a combination of 'calculation' and 'lumen'. The lumen is the international unit for the luminous flux, a measure of the total quantity of visible light emitted by a source per unit of time."