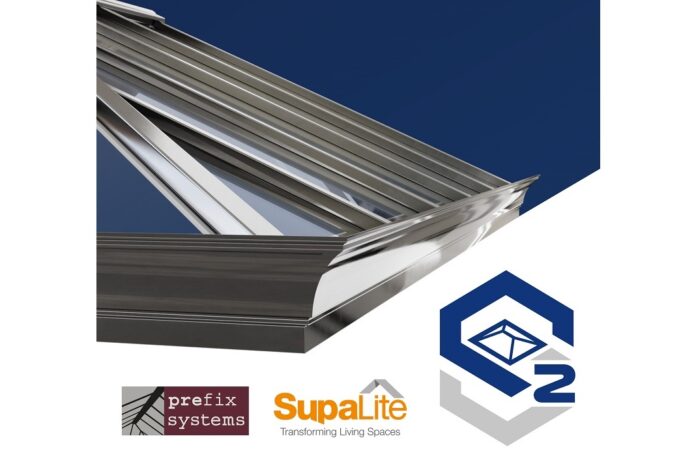 After three years of intensive product development, leaders of Sheerline have announced the launch of the S2 conservatory roof system. Based on the 'well-respected' K2 roof, a brand which the Sheerline team says is synonymous with quality, this newly evolved system is to be initially available exclusively through Prefix Systems and SupaLite.
"These respected roof businesses bring a wealth of experience that will benefit installers and fabricators looking for a unique and cutting-edge roof to offer their customers," say Sheerline's representatives. "Featuring a choice of multi-chambered PVC-U or aluminium top caps, along with a distinctively refined aluminium gutter shroud and easy-to-install internal pelmet system, S2 has been designed to cover everything from the grandest orangery style garden rooms to more modest replacement lean tos. The product is created by the team that developed the Installer-Award-winning S1 roof lantern.
"S2 is supported by experienced technical experts within Prefix and SupaLite who have a wealth of practical knowledge gained from designing and supplying conservatory and tiled roof systems directly from a manufacturer. Designed around a strong 'box' eaves beam, S2 is the perfect system for incorporating wide panoramic doors into a conservatory space and can accommodate pitches from an incredibly low 2.5˚  to a steep 37.5˚. Modern 'squared' cappings and aesthetics are carried across the entire S2 roof and all trims, creating a modern, contemporary-looking system that has the option to add high-quality finials and crestings, for customers looking for a more traditional finish."
Roger Hartshorn, Garnalex's CEO, added: "An aluminium conservatory roof was a natural product for Garnalex to introduce, especially working with industry-leading partners. We are passionate about bolstering British manufacturing and vertical integration, and are committed to extruding more of the UK's requirements for high-quality aluminium products domestically.
"After the success of our S1 roof lantern, developing a complete conservatory roof system to meet changing market needs was the next natural step. It also gives customers looking for a conservatory roof another choice in a market that is becoming increasingly stagnant and devoid of innovation.
"We knew when we committed to bringing a new roof system to market that we needed the right partners, experts in their field, to make it a success. We built practical experience and innovation into every component. It's part of the foundations we've built the success of the core Sheerline range on, so partnering with Prefix was a natural choice."
Chris Cooke, Prefix's director said: "We really like the development that the team at Sheerline have engineered into the S2 roof system. The glazed extension market is evolving, and this product will fit perfectly in Prefix's glazed roof offering."
To set the S2 roof ahead of the competition, the Sheerline team plan to also make the firm's SheerVent intelligent roof vent available for the S2. This exclusive product, which is only available for Sheerline roofs, brings conservatory ventilation into the 21st century by offering a unique, flush, low-line appearance as well as full automation options.
Wes Clarkson, SupaLite's sales director, added: "S2 was the obvious choice when we were looking for a fully glazed roof to sell alongside our existing range of tiled solutions, with better thermal performance and a more up-to-date appearance than the other systems we'd looked at. Being able to offer high end orangeries alongside complicated T-shapes and simple lean tos, all from one system, will enable us to keep manufacturing to the exceptional quality that our customers expect."
To find out more about Sheerline's range of aluminium windows, doors, bi-folds and roof lanterns, visit the website. You can also call the team on 01332 978 000 or email info@sheerline.com.