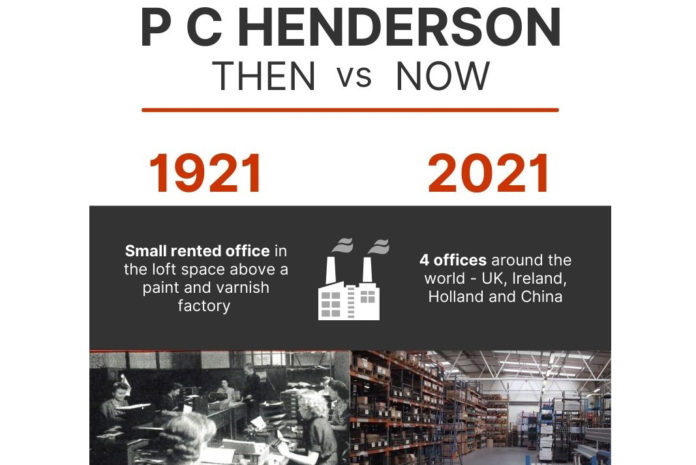 Sliding door gear manufacturer, PC Henderson, is celebrating its 100th year in the business. It was founded by Percy Cecil Henderson on 24 February 1921.
The company has come a long way since its humble beginnings. The business started in an unused loft space of a paint and varnish factory. Fast forward 100 years, the company has offices in the UK, Ireland, Holland and China, exports to over 70 countries worldwide and is one of the go-to providers for sliding door gear.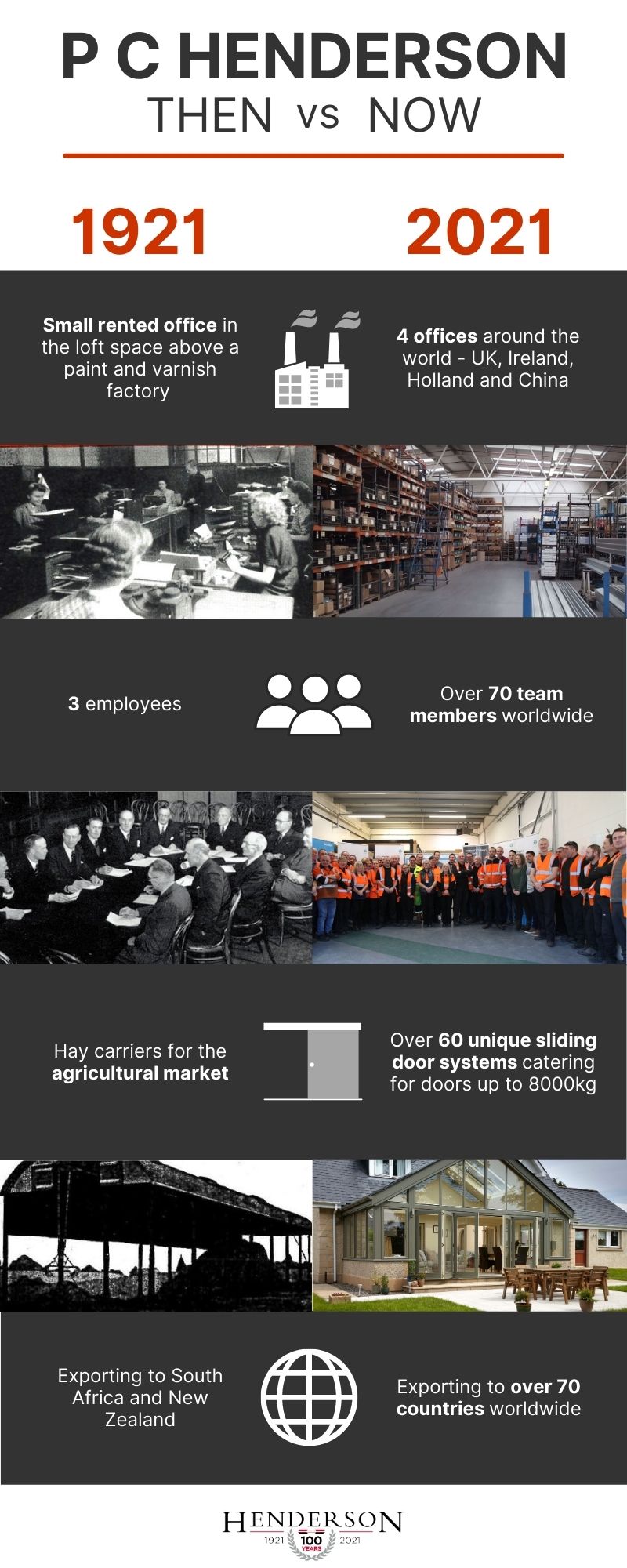 Trevor Cossins, managing director at PC Henderson, said: "Celebrating a centenary in business is a huge achievement. It puts us among a rare group of companies which have truly withstood the test of time and it certainly isn't something that happens by chance."
The company operates out of its 2.9-acre manufacturing plant in Bowburn, Durham, where it has resided for the last 52 years. Within the last three years, the company has reportedly achieved record sales, multiple award wins and some of the most successful product launches in its history.
Trevor continued: "In the late 1920s, Percy Cecil Henderson established the export side of the business – developing strong relationships in South Africa, New Zealand and China – regions which we still have a strong presence in today. I believe this courageous move has been a huge factor in the company's longevity and success over the years."
P C Henderson's awards include UK Export Business of the Year (British Chamber Awards, 2018). Exporting currently accounts for 70% of the company's annual sales, they say.
"Our expertise and dedicated team ethos has also been a huge contributing factor over the years," said Trevor. "We have a great team of highly skilled and passionate individuals – almost 60% of our team members have been with the company for over 10 years and 30% for over 20 years."
Product innovation is also high on the company's agenda, boasting over 60 products catering for sliding doors that weigh up to 8000kg. The company's products can be seen in locations including Kandahar Airport (Afghanistan), Amphia Hospital (Holland), Disneyland Shanghai and the Four Seasons Hotel in Tianjin, China.
"Our products are renowned in the industry for being built to last. We still receive enquiries for restoration projects installed in the 1950s and 1960s. It's this which has firmly positioned us as the go to provider for sliding door gear," said Trevor. "Customers come to us because they know the product will withstand the test of time."
As the company enters its second century of business, it plans ambitious growth – including major product launches and expansion for the American markets. Digital innovation is also high on the company's agenda, as well as ensuring product design meets the ever changing ways in which sliding doors are used in residential, commercial and industrial applications across the globe.