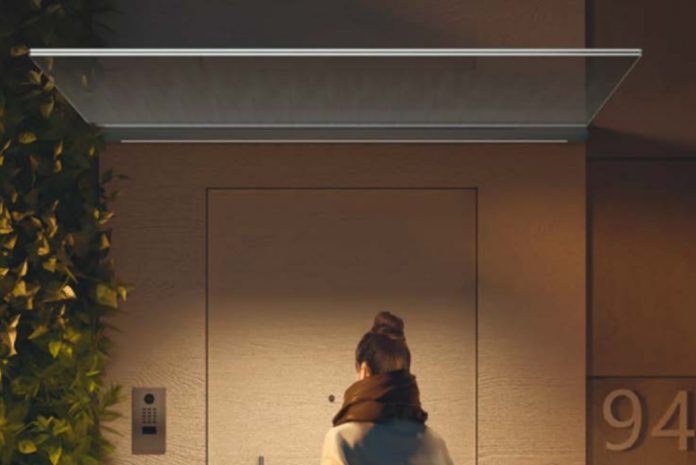 The warm edge spacer bar supplier Swisspacer has extended its range of innovative glass solutions with a new premium canopy system for commercial applications. Lumia, a continuous glass canopy made by Logli Massimo, part of the Saint-Gobain group, joins La Pensilina – a frameless glass canopy designed for use above entrance doors and patio doors – and La Defender, a suite of high-performance balustrade systems.
An extremely versatile system, the maximum length of each Lumia profile is 6m and any number of profiles can be combined to create a continuous and seamless façade. Lumia is therefore 'ideal', its manufacturer claims, for a wide range of commercial applications. The system offers 'unrivalled safety performance', and is designed to hold a vertical overload of 400kg/m2 without breaking.
Lumia is not only safe, adaptable and functional, it's also aesthetically pleasing, its makers argue. The stylish system makes the most of light, with a backlit glass option providing a decorative touch and functional lighting to allow users to feel safer and more comfortable. The patent-pending canopy system is reportedly easy to install, and includes single, multi-glass and linear layouts.
John Cooper, commercial director for Swisspacer UK and Ireland, said: "Lumia is a great-looking system and we are delighted to add it to our existing range of Logli Massimo glass solutions. Lumia combines style with safety and versatility, making it ideal for any type of commercial project or renovation.
"Lumia opens up new selling opportunities for us and our customers, extending our suite of glass canopy solutions for residential and commercial buildings." For more information, click here, call 01908 335 190 or follow @swisspacer on social media.