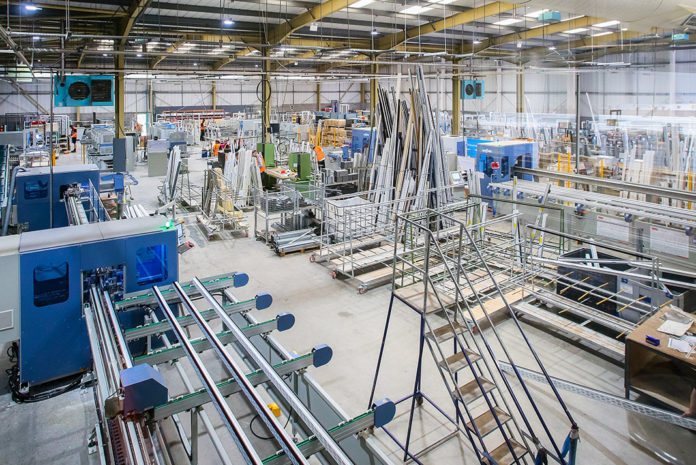 SolarFrame and SOL Conservatory Roofs have reported 'no setbacks' from the Coronavirus pandemic, with 2020 being a year for continued investment and team growth at the Yorkshire based fabricator.
The company says it has gone from strength to strength and witnessed a rapid rise in sales within the trade fabrication and dedicated roof division, all exceeding 2019 sales despite three months of closed doors.
With all components sourced in the UK, SolarFrame and Sol Conservatory Roofs have maintained 'a solid supply chain', and no delay to product manufacture. 2021 also sees an additional 50% capacity become available at SOL Conservatory Roofs for the production of solid and glazed roofs.
Managing director, Steve Taylor, said: "The team performed a sterling job throughout the year, pulling out all the stops to keep quality products going out on time, every time, despite the increased demand.
"As a thank you, we give all of our fabrication team a bonus per product and have introduced an Employee of the Week scheme, offering a £100 bonus. It's open to all employees across the SolarFrame and SOL sites, and winners are selected by their peers."
SolarFrame says it has also preserved jobs in the local area by recruiting more than 12 staff, recently made redundant following the closure of Sash UK, along with making a significant investment throughout the factory. Over £1million of Haffner machinery, including two new saw centres, three 5-head welders, four corner cleaners and a multitude of single head welders and saws is now in situ within the Rotherham based manufacturing site.
While morale is said to be high throughout the team, SolarFrame adds that it has teamed up with Kate Ashley-Norman and integrated 'Positive Mind Management' into the company, giving more than 100 employees access to emotional wellbeing resources and ensuring good mental health habits are developed, both in the workplace and at home.
Steve continued: "I'd like to thank our incredible teams at SolarFrame and SOL Conservatory Roofs who have gone above and beyond to help meet our customers' needs, along with our dedicated suppliers, and finally to our customers for their understanding and patience.
"We finished 2020 in a very positive position and look forward to further growth and development in 2021, which is already well underway with us finalising the plans for our third manufacturing site, which will be a purpose-built windows factory"