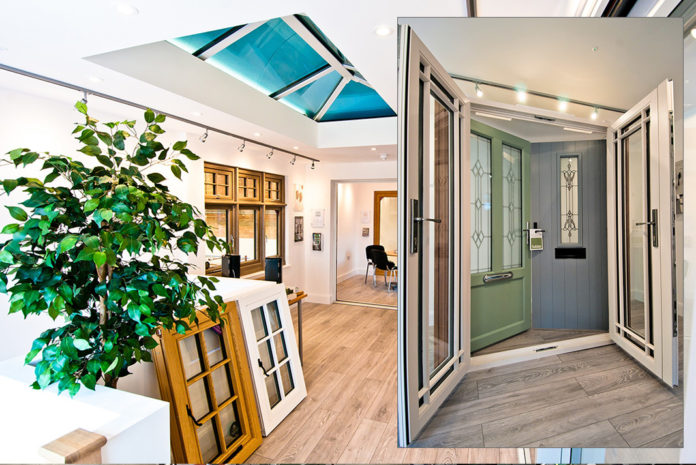 Sussex trade fabricator, Tradesmith, is inviting installers, builders and private developers for a tour of its three new and upgraded showrooms and its three factories. Based in Hailsham, Tradesmith has factories dedicated to Residence and WarmCore and aluminium doors alongside its main PVC-U plant.
Over the last 18 months, Tradesmith says it has significantly increased its range of high-end products, now manufacturing Deceuninck Heritage flush sashes, ultra-premium Residence R9 and R7 windows and aluminium systems in addition to its Veka Halo range of windows and doors.
A new double-decker showroom has been built and furnished this year, with Ultraframe and Stratus roof products on the top floor, along with VBH Invisifold slide and fold patio doors and bi-fold WarmCore doors incorporating built-in sliding blind systems. From this showroom, visitors can look through a top-of-the-range R9 casement into the Residence factory to see R9 and R7 windows being made.
On the ground floor below, there is a collection of R9 and R7 windows, Deceuninck Heritage flush casements, and Masterframe vertical sliding sashes. A collection of Tradesmith's hardware range includes new hand-forged options by From the Anvil. The new Veka ultramatt Spectral system is also on show – Tradesmith is reportedly the first fabricator in the UK to display a window with this unique finish.
In the third, ground floor showroom, specialist Spitfire doors sit alongside composite doors from Solidor and Calibre, and double-rebated options from The Door Factory. The display area also includes Tradesmith's own Sussex door range, as well as an Invisifold window and the UK's first set of Bluesky-certified acoustic windows.
"We're always happy for our customers to take homeowners here to help them sell, but now we're opening our doors to all installers. Everyone who has seen our facilities has been impressed. What's more, companies who haven't bought from us before will receive a £100 voucher towards their first order!"