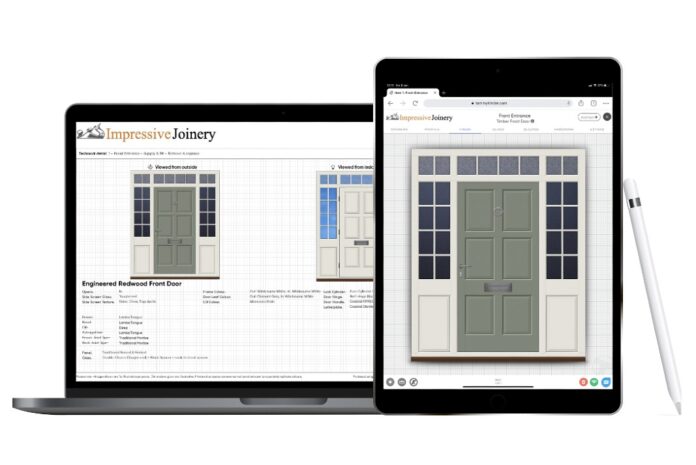 Software company Tommy Trinder has launched its suite of specialist timber features on its Installer-Award-winning Framepoint app, claiming that 'selling wooden windows and doors has just got a whole lot easier'. "Timber is close to our hearts," said Chris Brunsdon, Tommy Trinder's CEO. "It's great to be able to leverage the power of Framepoint, to make quoting and selling wooden products quick, easy and fun!" Chris is a former director of the Performance Timber Products Group and founder of TimberWindows.Com.
"Coming from a timber background, I know that details matter," he added. "The challenge was to keep things fast, simple and easy to use whilst providing the ability to showcase all the features that make wooden windows and doors special. We're so chuffed with the results!"
As with PVC-U and aluminium products, Tommy Trinder's patented Framepoint technology allows users to free draw timber windows and doors with a finger or mouse, just like sketching on a pad. Frame and sash depths can be customised; it's one touch to add deeper head sections or traditionally proportioned deep bottom rails to flush casements or sash windows. A raft of timber-specific details – such as lambs tongue mouldings, raised and field panels, cill nosings, single glazing and sash horns – can also be visualised and priced in a tap, the company claims.
Allowing clients to see how wooden windows and doors will look, in a full range of colourways, is important, Chris went on to explain. "Nowadays, white windows and doors account for less than 50% of the domestic timber replacement market, so we've made sure that a full range of colour and stains are available for selection – over 32 stain choices and 300 paint finishes, including all the ever-popular Farrow and Ball colour options. The colour of all items in the quote can be changed in one click. Being able to instantly see the effect on the elevation is really powerful."
As well as expanding its range of finish options, the Tommy Trinder team has carried out intensive work on the graphical representations of timber items, to allow the subtle swirls and whorls of timber to come through while viewing on-screen visualisations and customer quotes, representing photo-realistic quality. Timber-orientated ironmongery has also been uploaded to Framepoint, including an extensive range from specialist ironmonger, Coastal, a supplier of classic and contemporary handles and fittings to the joinery market.
"I must say, there is a real wow moment when you touch and add a Coastal peg stay to a window in Framepoint," said Chris, "it's the pièce de résistance!" Installers interested in discussing how Framepoint can help sell timber products can book a free demonstration of the app online, at tommytrinder.com.