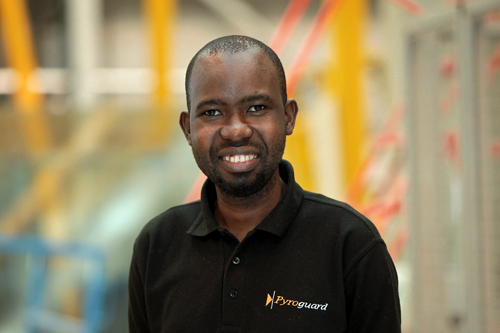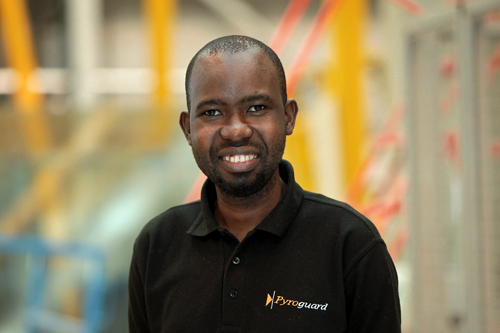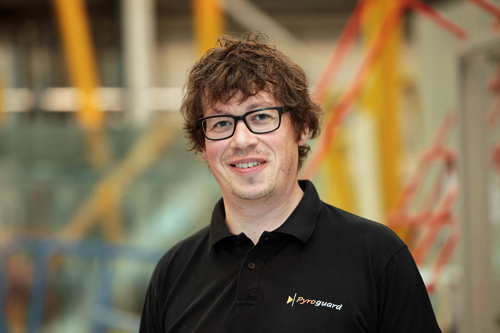 In March 2015, Pyroguard began collaborating with Edinburgh Napier University as part of a Knowledge Transfer Partnership (KTP) programme designed to further enhance the company's R&D in fire resistant glass manufacturing.
This programme is in association with Professor Rob English of the University and a new Pyroguard scientist, Dr Saminu Magami, who has a PhD in polymer and formulation chemistry and is said to be using his expertise to implement rheometrical methods of evaluation, formulation optimisation, experimental design and other approaches. Pyroguard says Saminu's effort will support product development, quality control and other technical aspects of its products.
Pyroguard reportedly undertook its first KTP with the University of Leeds in 2007, which led to the company putting R&D at the forefront of its business. These previous KTP's have combined with Pyroguard's recent investment of £400,000 in its plant in Haydock and, claims Pyroguard, the subsequent quality improvements experienced by its customers.
Edinburgh Napier is said to be providing Saminu with training, instrumental support and access to the University laboratories and library, all of which is directly benefiting both Saminu and Pyroguard.
Vince Crook, head of R&D for Pyroguard, said: "The KTP schemes have resulted in clear benefits for Pyroguard since its inception and we are proud to be part of this partnership with Edinburgh Napier University. Saminu's commitment to developing our glass systems is resulting in further improvements to the products our customers will be offered in the future. The opportunity to take part in a Knowledge Transfer Partnership is Pyroguard's opportunity to show our continued commitment to R&D and the results of this will be felt by the company and our customers alike."