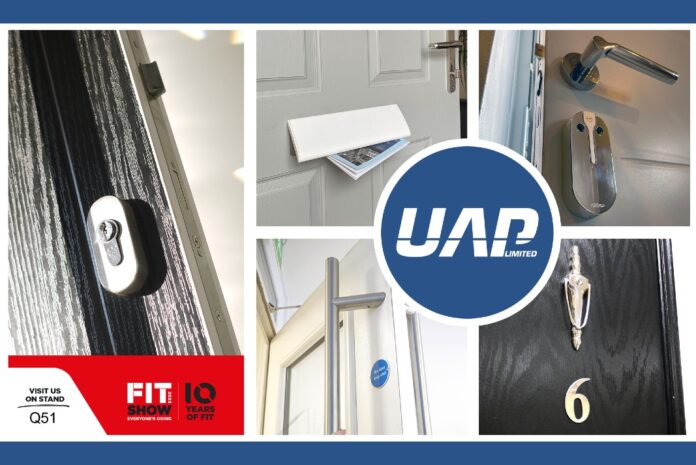 Hardware specialist UAP is set to showcase its improved portfolio of door and window hardware at this year's Fit Show trade exhibition, from 23 to 25 May 2023. The UAP team is to found at stand number Q51, and trade show is to take place at the NEC in Birmingham.
Home to seven leading brands, with more in the pipeline, UAP is marketed as offering 'an unrivalled product range' that includes some of the UK's most advanced locking systems. "The Fit Show will provide installers and fabricators with the opportunity to see and sample UAP's latest innovations," the firm's representative said. "These include the Ionic, an ultra-secure electronic lock enabling access via a smartphone app."
Manufactured for timber, aluminium and composite doors, the Ionic is the first in a series of smart products that are set to be launched under UAP's Fullex Ai brand. The Kinetica K4 horizontal keyway by Fullex and Locking Systems is also set to be on display at this year's Fit Show. Offering 'the highest levels of security', the cylinder has been designed with a unique cam system that makes it harder to attack or pick, according to UAP's representatives.
A new, premium door handle range by Intelligent Hardware will add to UAP's stand, along with information about UAP's latest company developments. This includes the acquisition of Security Hardware from Eurocell. The deal is said to have significantly bolstered UAP's portfolio with a complete range of window and specialist hardware as well as new distribution capabilities in the West Midlands.
Kamila Kasperowicz, UAP's marketing director, said: "We will be exhibiting at Fit Show at an exciting time in our company's history. Our business is growing rapidly, offering our customers a vast and evolving range of products that provide a one-stop-shop for all their needs.
"As the UK's largest door and window trade event, Fit Show provides the ideal platform for us to highlight the impact of UAP's expansion on installers and fabricators. We are looking forward to meeting visitors and demonstrating how product excellence and innovation can help them to cost-effectively meet their security and design requirements."