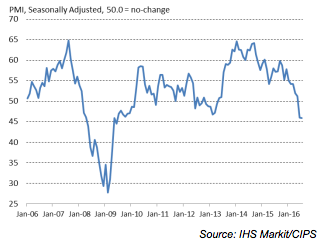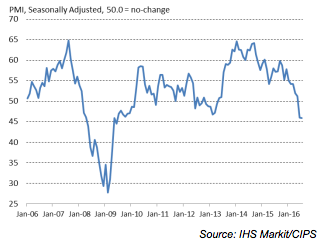 July data signalled a further downturn in UK construction output, but the rate of contraction was only fractionally faster than that seen during the previous survey period. At the same time, new order volumes dropped at a slower pace than the three-and-a-half year low seen in June.
Anecdotal evidence suggested that economic uncertainty following the EU referendum was the main factor weighing on business activity in July, especially in the commercial building sector. However, there were also reports suggesting that demand patterns had been more resilient than expected, and some firms linked new enquiries from international clients to exchange rate depreciation.
The seasonally adjusted Markit/CIPS UK Construction Purchasing Managers' Index registered 45.9 in July, down from 46.0 in June and below the 50.0 no-change threshold for the second month running. The latest reading signalled the fastest overall decline in construction output since June 2009. This largely reflected the steepest fall in commercial building for over six-and-a-half years, alongside a drop in civil engineering activity for the first time in 2016. Residential construction also declined at a solid pace in July, but the rate of contraction eased from June's three-and-a-half year low.
Construction companies noted that weaker order books continued to act as a brake on business activity in July. Reflecting this, latest data signalled an overall reduction in new work for the third month running, but the rate of decline eased since June and was close to that seen in early-2013.
Survey respondents noted that uncertainty following the EU referendum had dampened client confidence, led to greater risk aversion, and encouraged a wait-and-see approach to decision making. That said, after taking into account the uncertain business outlook, there were also some reports that overall demand had been relatively resilient in July, especially for house building and infrastructure projects. Insufficient new work to replace completed projects resulted in a decline in employment numbers for the first time since May 2013. Survey respondents mostly cited the non-replacement of voluntary leavers.
Moreover, there was a sharp reversal in sub-contractor availability, which rose at the fastest pace since September 2012. Weaker demand for sub-contractors also contributed to the slowest rise in their average charges for over three years. Materials prices meanwhile increased at the steepest rate since March 2015, despite lower demand for inputs. This was overwhelmingly linked to the weaker sterling exchange rate.
Meanwhile, the latest survey signalled a fall in confidence regarding the year-ahead business outlook to its lowest since April 2013. Construction firms mainly linked this to concerns about private sector investment spending, but there were also reports citing hopes of a stabilisation in demand conditions and reduced economic uncertainty over the next 12 months.
Tim Moore, senior economist at Markit and author of the Markit/CIPS Construction PMI, said: "July's survey is the first construction PMI compiled entirely after the EU referendum result and the figures confirm a clear loss of momentum since the second quarter of 2016, led by a steep and accelerated decline in commercial building. Reduced volumes of new work to replace completed projects contributed to a fall in employment for the first time in just over three years.
"UK construction firms frequently cited ongoing economic uncertainty as having a material negative impact on their order books. In particular, survey respondents noted heightened risk aversion and lower investment spending among clients, notwithstanding a greater number of speculative enquiries in anticipation of lower charges.
"Meanwhile, exchange rate depreciation resulted in sharper input cost inflation and there are concerns that additional supplier price rises for imported materials could be around the corner.
"However, it's not all bad news, at least insofar as the decline in construction output was little-changed from June's seven-year low. There were also some reports that demand patterns had been more resilient than expected given the uncertain business outlook. Reflecting this, new order volumes and purchasing activity both dropped at a slightly slower pace than in the previous month.
"Construction firms generally suggested that clients had adopted a wait-and-see approach rather than curtailed or cancelled forthcoming projects during July. While there is little to suggest an imminent turnaround in business conditions, a relief factor appears to have softened the fall in business optimism among UK construction companies.
"Latest data showed that confidence regarding the year-ahead outlook eased further following the EU referendum, but only to a level last seen in April 2013 and one that is still well above the record lows experienced in 2008/09."