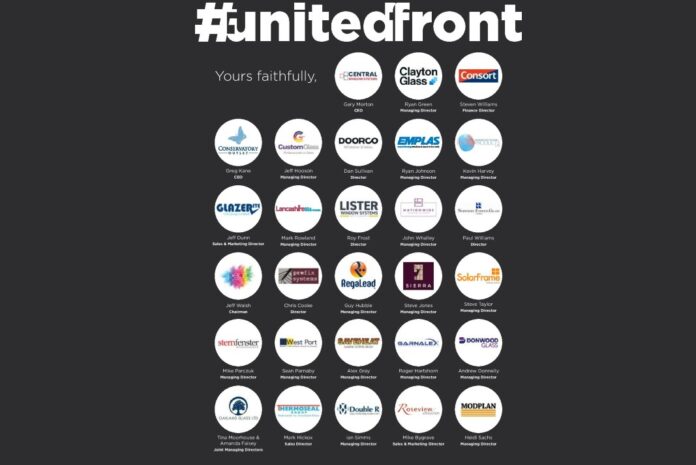 Suppliers to the home improvement market have given their resounding approval to a campaign designed to raise awareness about some of the challenges faced by the fenestration industry. Nine new companies have joined the founding 19 members of the #unitedfront campaign, taking the total number of supporting firms to 28. The companies' collective voice accounts for more than £600m of sales and over 5,000 staff. The campaign originally launched in October (click here for our earlier news story about this.)
Bosses from Central Window Systems, Donwood Group, Double R Glass and Roofing Systems, Garnalex, Modplan, Oakland Glass, Roseview Windows, Saveheat Group and Thermoseal Group are the latest signatories to the open letter. The letter highlights issues that the sector is facing as it attempts to meet the national appetite for doors, windows, roofing systems and glazing products.
The businesses, which are based across the UK and span different specialisms of the supply chain, clearly lay out three of the main challenges, including disruption with materials, rising prices/energy costs and significant labour shortages due to the pandemic and Brexit. The group calls for the industry to show a #unitedfront of solidarity, recognising that every supplier is weathering the same storm. By promoting greater customer awareness, the industry can quickly work together to provide solutions and get back to delivering continuity of supply, the letter's signatories argue.
"We have had such a fantastic response since we launched the campaign in October," explained Ryan Green, managing director of Clayton Glass. "The overwhelming reaction has been positive with suppliers in our sector. As soon as the letter landed, we received calls from colleagues, social media support and debate about how we could all work more collaboratively to help ease the supply chain issues as soon as possible."
He continued: "Importantly, home improvement retailers were largely on board, and said the letter and the national coverage we secured really helped to explain to their customers why there may be delays in the short term. What #unitedfront has done has really opened up conversations that we may not have had before, and we've already got a new LinkedIn group to encourage best practice sharing. An event is in the making for 2022."
Tina Moorhouse and Amanda Falsey, joint managing directors of Oakland Glass, in Dewsbury, added their support, saying: "When we saw the initial letter, we knew we had to get involved, so immediately added our support to the original 19 signatories. The sector has enjoyed some of the fastest growth we've ever seen, but this has been against a backdrop of global supply chain disruption and all of us are facing up to the same challenges.
"We are doing everything we can to increase production. By working together, we are already seeing improvements and making sure we deliver the home improvement products our customers are demanding."