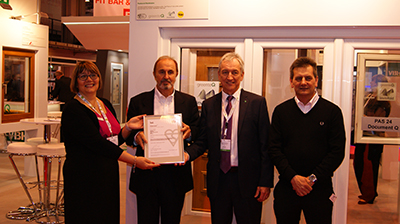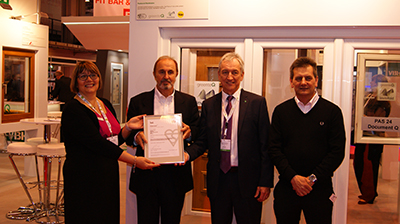 Hardware supplier VBH and partner Invisifold received their PAS 24 security test certification for the greenteQ Invisifold Slide & Fold hardware system at the recent FIT Show.
VBH reports that this is a major step forward in the development of Invisifold as it means that the product complies with the requirements of Document Q, which in turn means that Invisifold PAS 24 spec doors can be installed on new-build developments as well as on replacement/refurb projects and extensions.
Lorraine Balch of BSI made the presentation to Peter Rowlands of VBH and Neil Ingram and Steve Smith of Invisifold early on the first morning of the show. VBH says that it caused 'an immediate buzz' around the VBH stand, which remained constant throughout the show.
Rob Norman of VBH commented: "Having a PAS 24 spec door on our stand for visitors to see and play with worked brilliantly for us. Word of mouth around the show meant that we had a constant stream of visitors throughout the three days. Everyone who saw Invisifold was very impressed and, judging from the feedback we've received, our customers who have added Invisifold to their range are going to be busy people. 
"All products on the stand, from our new Q-Star 1 star profile cylinder through to branded products from the likes of Maco, Roto, Siegenia and Yale were popular attractions and we've picked up a broad range of enquiries for pretty much everything we displayed. We're very glad that we came to FIT 2016."