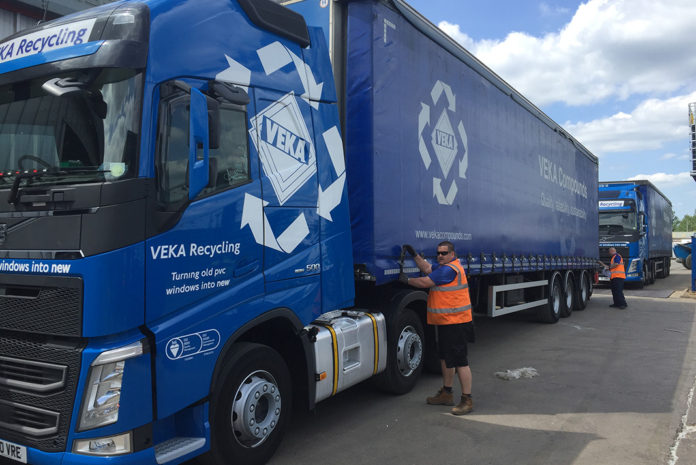 Veka Recycling has reported that its fleet of collection vehicles is back on the road as the industry's window and door installers return to work.
Veka Recycling's fleet consists of articulated, demountable forklift-equipped vehicles, together with 10-tonne box trucks. Once received, the old windows and doors will have metals such as reinforcement and hardware removed, with the frames passing through several stages before being supplied again as high quality polymer to extruders for re-manufacture into a range of products. These include PVC-U window and door profiles and others that include products for the electrical and building industry.
The collection vehicles being back on the road may be regarded as a reliable barometer of real-world activity, says Veka Recycling's managing director, Simon Scholes: "We were delighted when the phones began ringing with our installer customers telling us that not only were they back at work but that their hoppers were full of recyclable material that needed collecting.
"We have also been busy again collecting virgin PVC-U frame offcuts from fabricators using all system brands, as frame production steps up again. It may be some time before volumes return to those before lockdown, but it is encouraging, nonetheless.
"Despite business pressures brought on by Covid-19, installers and fabricators are still keen to have their profiles reprocessed according to a clearly traceable audit trail, to ensure compliance with ever-stricter regulations covering recycling."