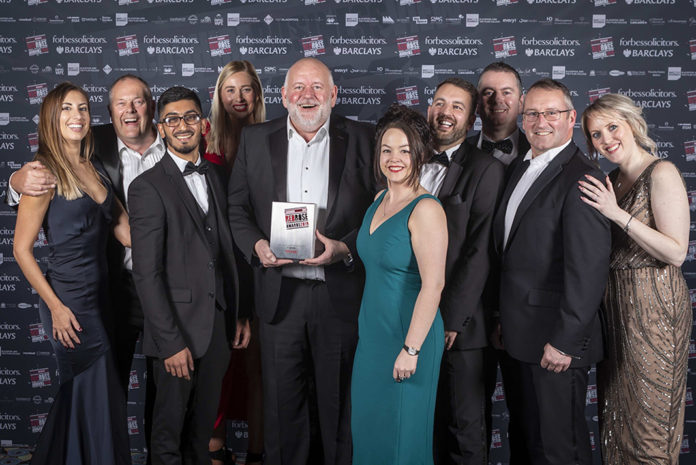 Veka Group has been crowned 'Best Manufacturing Company' in the region, with the team collecting a custom-made trophy in front of more than 1,000 business peers at the prestigious Red Rose Awards 2019.
The Red Rose Awards, organised by Lancashire Business View magazine, are held in Blackpool's Winter Gardens each year. Veka Group has previously won 'Best Large Business' and 'Employer of the Year' at the event and was shortlisted in three categories this year, including 'In-House Training' and 'Corporate Social Responsibility' as well as the 'Manufacturing Business' category. The judges are reported to have said that Veka impressed them with its growth in a tough market, and were also interested in the company's environmental and waste reduction solutions. Feedback from the panel, also highlighted Veka Group's commitment to continuous improvement.
Veka Group's operations director, Paul Armstrong said: "There are some fantastic manufacturers in the region, so the win is extra special considering the high calibre of our fellow nominees.

"We were very proud to have been shortlisted in three such varied categories as it shows we are a rounded company that works equally as hard at training and helping our staff develop, as we do manufacturing our industry-leading products, and supporting local community projects.
"Our written entries were followed up with presentations and intensive interviews. For the manufacturing category, we showcased our impressive 99.3% 'on time in full' performance figure and explained how Veka Group continues to adapt to market demands to give our customers the highest quality products with minimal lead times.
"We work hard in every single aspect of the business, and we're proud to be such a contributor to the local economy, with the majority of our 380 employees living within the local BB postcode area.
"As always, the team celebrated a fantastic night at the Red Rose Awards evening and I'd like to thank everyone at Veka – this award is recognition of all the hard work everyone puts in day after day. On behalf of the company, I'd also like to send our congratulations to the other deserving winners too."