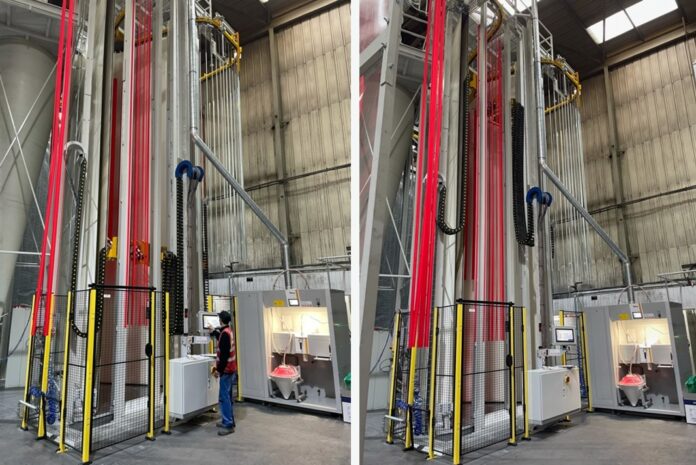 The aluminium powder coating business, Vertik-Al, has further enhanced efficiency and quality by installing a new vertical powder coating booth, the Cube Grande from Surface Aluminium Technologies (SAT) SRL. Advertised as being part of 'a new generation of powder coating technology', it is the first booth of its kind to be installed in the UK. The investment enables Vertik-Al to offer its customers the very latest and highest standards in surface finishing, including gloss, matt, metallics and textured finishes.
Installed into the existing line, the booth's benefits include the ability to produce more coated product due to its efficient operational capacity. The booth facilitates shorter colour changes and more targeted application, with less potential for cross contamination. As a result, output will greatly increase in line with the company's expanding customer demands.
With its V-shaped design and optimised layout of components, tests prove that the Cube Grande's application efficiency (the percentage of fresh powder directly applied on the profiles) is markedly higher than older, less efficient booths. These improvements offer environmental advantages that Vertik-Al hopes will support customers in their bid to be more sustainable and environmentally friendly.
This installation is the fourth in a series of multimillion-pound investments planned for the powder coating specialist. In recent years, Vertik-Al has installed two Magic Compact horizontal powder coating plants and an upgrade of an existing horizontal line at its Birmingham-based facility.
As with the Cube Grande, the horizontal plants use Gema automation and gun technology, which claims to offer the very best efficiencies in powder consumption and superior quality coatings. Investment such as this supports Vertik-Al's commitment to quality and high standards. The company holds the Qualicoat quality label, and is proud to be a member of the Aluminium Federation, the secretariat for Qualicoat UK and Ireland. Vertik-Al remains the only applicator in the UK and Ireland to hold the GSB quality seal, and has done so since 1994.