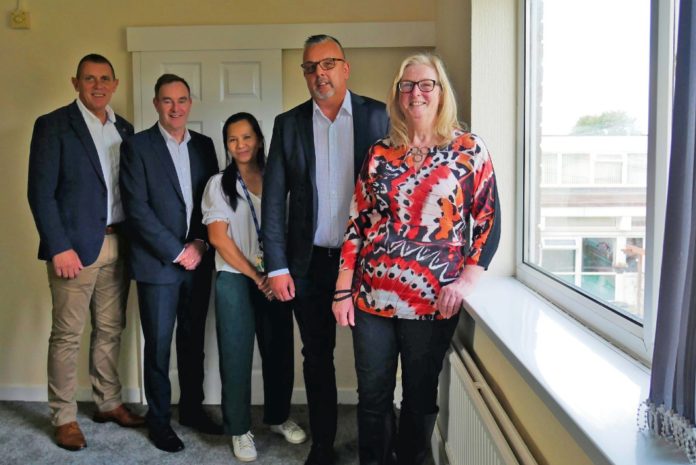 Social housing tenants in Wigan, Greater Manchester, are set to save energy, cut fuel bills and reduce their impact on the environment, after Wigan Council became the first in the UK to commit to installing energy-saving Thermocill devices in its homes. Thermocill is made from recycled materials, and is designed to enable a room to heat up quicker while reducing energy use. The news comes shortly after Wigan Council celebrated its first 'Go Green Fest', which took place 11 to 15 October – an online festival highlighting the council's progress, and actions taken by businesses and residents across the borough, to help tackle climate change.
Thermocill devices, which have been independently verified by the Energy Saving Trust, are due to be installed in 2,000 homes every year, with the aim of assisting Wigan Council in reaching its goal to be net carbon neutral by 2035. The council has taken delivery of its first batch of Thermocill devices, claiming that its benefits made the product a 'no brainer'.
Paul Barton, director of environment at Wigan Council, said: "It was important for us to find a solution that would help us work towards our carbon reduction targets, while also bringing benefits to our tenants. Thermocill was a really good fit for us and our tenants, bringing the potential to reduce a tenant's heating bill by 8%, which is significant given the pending rises in energy costs. There are huge benefits to the fabric of the property, the environment and the individual tenant so we feel it's a no brainer for us."
About 2,000 of Wigan Council's 22,000 houses become vacant every year. Thermocill, which is made from recycled materials, will be fitted in these properties, as part of scheduled refurbishment work that is carried out before new tenants move in. The device, which is passive, requiring no input from the householder, is fitted beneath any window sill located above a radiator. It is designed to create a wall of warm air in front of the window.
The wall of warm air created by the Thermocill reduces both the amount of cold air entering the house and the amount of warm air leaking out via the windows, warming up a room 19% quicker, its manufacturer claims. They add that reducing condensation and moisture on windows means less damp, and improved air quality, safeguarding the health of residents and protecting the condition of the property.
Thermocill is working with Wigan Council to train its inhouse teams in fitting the device, which are due to be installed in every window situated above a radiator. The council is also exploring a collaboration with Wigan and Leigh College, to potentially incorporate the training into its existing apprenticeships.
Paul added: "The many benefits of Thermocill, the fact that it is made of recycled materials and the lack of disruption to the tenant when balanced with the affordability of the product really impressed us. Although we are starting with 2,000 homes in the first year, we'd like to see it installed in every one of our properties – that's our aspiration.
"We're a very proactive council that has prioritised addressing the effects of climate change. Thermocill is a welcome boost to us ultimately achieving our targets."
Keith Rimmer, inventor, founder and chief executive of Thermocill, said that the partnership with Wigan Council was a key step in Thermocill's journey and a recognition of the benefits. He said: "We are delighted to announce our work with Wigan Council, which will see thousands of people benefit from warmer homes for lower energy costs. We have worked closely with the council to deliver this landmark order, which will contribute to the Wigan borough fulfilling its climate change strategy. We are now interested in linking up with other councils, to help them explore the benefits of installing Thermocill in their properties."